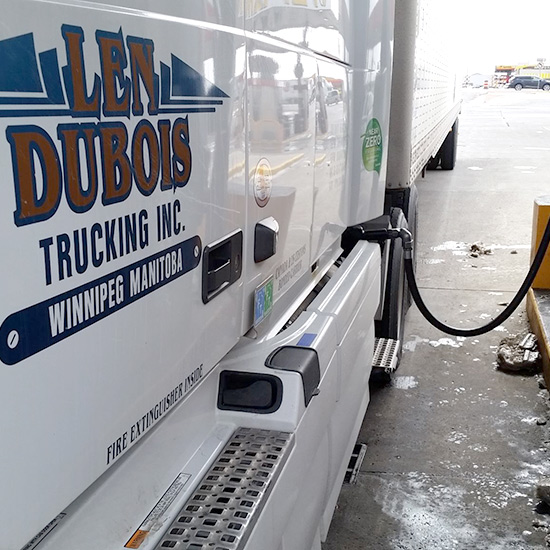 Legalizing the weight of your truck is one of those things which can be a little tricky sometimes. The weight limits don't allow additional weight for fuel, you need to account for fuel in your axle weights and gross vehicle weight. This gets tricky when you have a heavy load which takes you close to gross or the weight of your load isn't evenly distributed.
Fuel Weight
Diesel is heavy. Over 7lb/gallon heavy. Calculate around 8lb/gallon to be safe as the temperature will affect the weight slightly.
Fuel tank capacity varies from truck to truck. 100 – 150 gallons per side is most common for OTR trucks. At Len Dubois Trucking our fleet of Volvos generally hold 100 gallons per side. Your tanks will have the capacity listed by the opening.
Fuel Weight Placement
The weight of the fuel will be distributed between the steer and drive axles. What that split will be is determined by the tank placement. To find out the split weigh your truck then immediately add fuel then reweigh your truck.
You'll see the drive and steer weights changed. Subtract the new weight on each axle by the first weight to get the amount of weight each axle is carrying of the 100 gallons you just added. You can now figure the percentage of fuel weight going to each axle.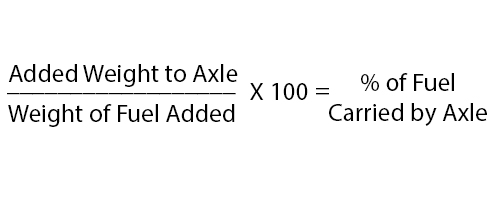 For example, if you add 100 gallons (800lb) of fuel and your steer axle weight increases by 300 and your drives increase by 500, then 38% of fuel weight is carried by the steers and 62% by the drives.
It's important to know how much of the fuel weight is carried by each axle.
Tips for Accounting for Fuel
Look to see if the weight of your load is included in your dispatch info. You can run your fuel to half tanks if you are picking up a heavy load.
Run half tanks of fuel. Sometimes we have to run with half fuel because more fuel will push us over allowable gross vehicle weight. This will mean you'll need to stop for fuel more often. Trip planning is critical. You need to make sure you take on enough fuel to make it to the next fuel stop and your weight needs to be legal.
Fuel after you weigh and legalize your load. If you're unsure if you can fuel completely, add some fuel and reweigh. If you could've taken on more fuel, then you know next time you need to fuel. Either way, take note of how full your tanks are.
Always have a scale ticket that shows you legal.
Don't overlook the weight you'll add when you add fuel. Scales will generally give you a little wiggle room if you're over on an axle. They usually don't give any on gross vehicle weight. If you do accidentally add too much fuel make sure you have a scale ticket that shows you had legalized your weight. If they're in a good mood DOT may let you go because you'll burn off the extra weight. That's a big if, and overweight carries a big fine.