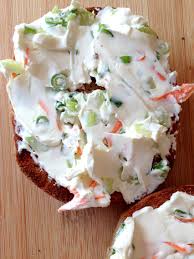 Let's face it, it can get boring eating the same thing day in and day out. Truck drivers are probably more affected by this as they face the same truck stop food across the country. Changing things up a little adds variety to your life and goes a long way to increasing a truck driver's morale. Instead of the same old cream cheese recipe why not try out Vegetable cream cheese. It's great on just about anything!
INGREDIENTS
1 (8 ounce) package cream cheese, softened
2 tablespoons finely chopped carrots
1 tablespoon finely chopped scallion, white part
1 large radish, finely chopped
2 inches piece of celery, finely chopped
1⁄8 teaspoon pepper
1⁄8 teaspoon salt (optional)
1 dash hot pepper sauce
DIRECTIONS
Place the cream cheese mixer or food processor, at medium speed and blend cheese until creamy.
Add additional ingredients and blend on low till fully mixed into cheese.
Scrape out of mixer bowl with a spatula and store in a covered bowl in refrigerator for 24 hours for the flavors to mingle.
Serve on toasted bagels, as an omelet filling, with crudites or crackers, etc.