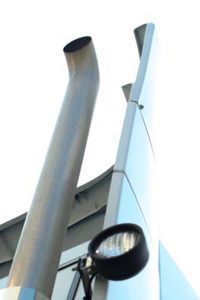 When you're in trucking long enough, you'll accumulate some interesting stories. Recently we had a driver who went to her doctor several times because of fatigue, dizziness, nausea, and her asthma was bothering her. Her doctor wasn't able to figure out what was causing her symptoms. It wasn't until her truck went in for a service that the cause was identified.
Her truck had a significant exhaust leak. She didn't notice it during her vehicle inspections. I've seen this once before with one of our owner ops. The danger of an exhaust leak is that exhaust can leak into the cab. The driver may not smell exhaust, but can suffer from carbon monoxide poisoning  (CO poisoning).
CO poisoning can have a range of health risks including death. Medical professionals may have difficulty diagnosing CO poisoning as it's symptoms mimic other illnesses. The CDC says the most common symptoms of CO poisoning are headache, dizziness, weakness, nausea, vomiting, chest pain, and confusion.
If you show signs of CO poisoning contact your doctor immediately and contact maintenance to get the truck check for an exhaust leak. Mention to your doctor what you do for a living and the possibility of exposure to carbon monoxide.
For more information http://www.cdc.gov/co/faqs.htm
Len Dubois Trucking is a family-run transportation and trucking company in Winnipeg, Manitoba. We are looking for quality Owner/Operators and company drivers. Join our team today.