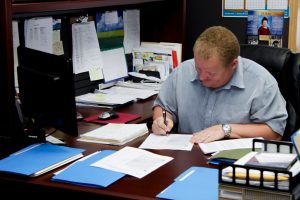 In the past month it seems that there have been a lot of news articles about trucking company recruiters. Now these articles focus on what to watch out for when speaking with a recruiter. How a recruiter will say or promise just about anything to a driver to get them behind the wheel of their truck. We are not going to lie and say that it doesn't happen, but we can say that it NEVER happens at Len Dubois Trucking.
How can we make such a big promise?
Here's how. First we don't make it a policy to lie to possible recruits. We don't believe that starting and maintaining a quality relationship with our driving team can be done on a foundation of lies and broken promises.
Second John, our recruiter, is also our manager of Driver Services and Compliance. John is not someone you will meet once or twice in your trucking career. John will be a permanent fixture in your time with us.  He is open and honest about the pay scale, the miles, the type of runs, lanes and deliveries you will be given, and about the home time you will receive. John's door is always open. If you need to talk to him about an issue with the truck, an issue with dispatch, or an issue at home, he is there to listen, no matter how long you've been with the company.
A little about John
John has been in the trucking industry for nearly 25 years. He knows what it's like to be an over the road driver, that's where he got his start in the industry. After 9 years of driving John moved into dispatch allowing him to participate in trip planning and dispatching trucks. This unique combination as well as his management degree in transportation has given John the skills he needs not only to deliver on Driver Services and Compliance, but also to serve as our recruiter.
Len Dubois Trucking is a family-run transportation and trucking company in Winnipeg, Manitoba. We are looking for quality Owner/Operators and company drivers. Join our team today.