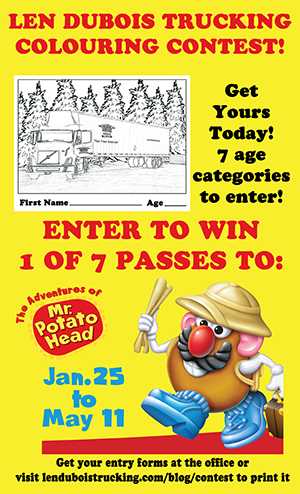 Len Dubois Trucking is running a colouring contest for the staff and family members of Len Dubois Trucking.
We will be giving away 7 family passes, good for up to six people, to The Adventures of Mr. Potato Head exhibit at the Manitoba Children's Museum. We have 7 entrance categories to choose from:
#1 – 1 and 2 year olds
#2 – 3 and 4 year olds
#3 – 5 and 6 year olds
#4 – 7, 8, and 9 year olds
#5 – 10, 11, and 12 year olds
#6 – 13, 14, and 15 year olds
#7 – 16 year olds and up
Notice the 16 and up category, yes, that means that the adults can enter too. Let's all have some fun colouring with our families.
The contest runs from February 14, 2014 to March 14, 2014. Winners will be announced on March 18, 2014. The contest is open to staff and families of Len Dubois Trucking only.
You can pick up your Colouring Contest picture and entrance form at the Len Dubois Trucking yard, 1001 Elgin Ave, Winnipeg or you can print it off here. If you choose to print your own copy make sure to include the entrance form with your submission.
Contest Rules and Entrance Form
Len Dubois Trucking is a family-run transportation and trucking company in Winnipeg, Manitoba. We are looking for quality Owner/Operators and company drivers. Join our team today.