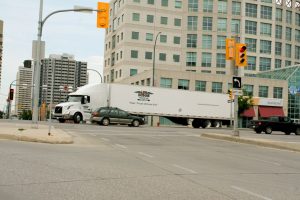 From the outside looking in, it may seem like a truck driver spend all of their time alone in the truck driving. This isn't the case. Success in this job relies on proper & regular communication & planning. Drivers are in constant contact with shippers, receivers and various members of their company, such as, dispatch and safety departments. The driver plays a key role in keeping everybody updated on the progress and any potential problems or delays.
What to Communicate
Pickup and delivery appointments and arrival times
Setup appointments when necessary and if an appointment isn't necessary, at least inform shipper/receivers when you plan to be there. Often, it helps a shipper/receiver plan their day when they have an idea when you'll be there. Little courtesies will help build relationships and will make your life easier if they become a regular client.
It's important that drivers keep dispatch in the loop when it comes to appointments and ETA's. You can use the Qualcomm to inform dispatch; it's not urgent and is less time consuming than via phone.
Report any delays to shippers/receivers and your company
Sometimes drivers are delayed by weather, traffic, construction, or by other pick up or deliveries. It's important to call your shipper/receiver immediately when you know you will miss an appointment. Work with them to setup another appointment.
Let your dispatch know of your delay, the reason, and your new ETA. If the delay isn't a problem with the shipper/receiver then Qualcomm is the way to inform dispatch; if there is a problem then phone your dispatch immediately. Of course, ensure you understand your company policies and procedures about delays.
Call dispatch immediately about any problems at a shipper/receiver
It's important to always remain professional at a shipper/receiver – they are your clients. If there is a problem, call your dispatch to help resolve the problem.
Questions about border crossing
Most cross-border shipments follow the same procedures and are hassle free. If you think there is a problem with the paper work, call your dispatch or customs department (Len Dubois fleet has a great customs service department) immediately. Issues with customs clearance is best to deal with before you arrive at customs.
Report accidents or incidents immediately
A minor incident becomes serious if you are caught leaving-the-scene of an accident. While it's undesirable to have an accident, it's understandable; it's unacceptable for a professional to try to avoid responsibility and put themselves and the company at odds with law in the process.
Even minor incidents with no visible damage need to be reported to your safety department. It's also best to take pictures of everything involved and the surrounding area. This protects you and the company from a false claim later on. Those pictures and the report will help the company defend themselves.
Knowing what to communicate and when to do it are important. Many drivers can get caught up in either over communicating, which takes up everyone's time and reduces productivity, or they have a lack of communication which leaves people wondering what is going on. Good communication will reduce potential problems make you a more valued member of your team.
Len Dubois Trucking is a family friendly transportation and trucking company in Winnipeg, Manitoba. We are looking for quality Owner/Operators and company drivers. Join our team today.