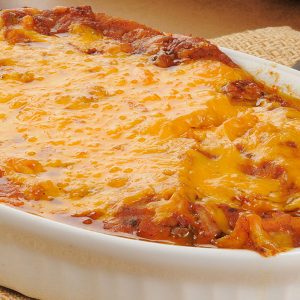 Here's a great make at home recipe that warms up well in a microwave. Tasty enough to eat by itself or combine it with rice, pasta, or tacos to add some variety to your meals.
INGREDIENTS:
1½ lbs ground beef
½ can crushed tomatoes
2 oz. pickled jalapeños
½ lb shredded cheese
1 cup sour cream
1 scallion, finely chopped
2 tablespoons butter
guacamole (optional)
Make your own Taco seasoning
2 teaspoons chili powder
2 teaspoons paprika powder
1 teaspoon cumin powder
1 – 2 teaspoons onion powder or garlic powder
1 pinch cayenne pepper
1 teaspoon salt (optional)
Preheat the oven to 400°F (200°C).
Fry the ground beef in butter, and add taco seasoning and tomatoes.
Place the ground beef mix in a baking dish with jalapenos and cheese on top. Bake on upper rack in oven for 15–20 minutes.
Chop the chives finely and mix in with the sour cream.
Serve with sour cream and guacamole.