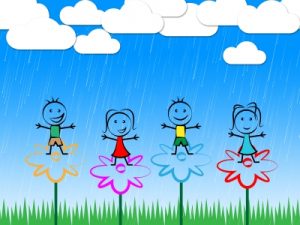 One of the biggest hurdles trucking parents have to over come is extended time away from their children. Traveling for work can present some unique parenting challenges. The good news is, just like any other challenge in your life, there are ways to cope with these challenges.
Whether you have young children or teenagers at home, the key to overcoming this hurdle is communication. Just because you're over the road doesn't mean you can't be close to your kids and find ways to be a part of their daily lives.
The first step in staying connected is to speak their language and be willing to learn new ways of communication. Video chats work well when your kids are young and their verbal skills are not developed enough for phone calls. Phone calls work well with older children and texting is a good way to communicate with your teens.
Here are some ways to stay connected with your kids while you're over the road.
Sharing Photos
Swap photos throughout the day showing each other what you have been up to. For drivers share the places you have been, the unique things you have seen on the road, even the rest area you are staying at. Remember that for you these may seem mundane, but it will give your children a sense of where you are and what you are doing. For some added fun, take one of your child's stuffed animals and take pictures of it doing your job. For families at home sharing pictures of the daily routine, art and craft projects, or even funny faces will help your driver feel connected.
Video Chat
Video chat is a great way to have some face time with the family and let's you interact in ways that a phone call can't. Talk, sing, tell jokes, dance around, heck you can even play board games together with this interactive approach. Video chats are a great way to get the whole family involved in the conversation at once.
Story Time
Just because you're over the road doesn't mean you still can't participate in the nightly bed time story routine. Phone home at bedtime to get the daily report and read your child their bedtime story, video chat works great for this too. You can also record yourself reading your children's favourite stories that way your children can watch the videos whenever they want. If you have older readers at home, find books that you can read together. This can open up the lines of communication, especially with teenagers, and give you something to discuss when you call home.
Special Notes
Leave notes or drawings for your child to enjoy while you are away. This takes a little prep work, but is a fun, simple way to connect with your children. Share jokes, send good luck wishes for upcoming tests, have a count down for your return home, or simply say good morning. Have your spouse deliver the notes while you are away or hide them around the house for your children to find.
Show and Tell
Kids love show and tell, so set aside some time for this. Decorate a show and tell box together and have your child keep special items in it to share with you when you get home or during your video chat sessions. Have your child collect their school papers, drawings, new rock collection or whatever else is important for them to share with you in one place.
Map it Out
As a driver you go to plenty of destinations. Help your child understand where you are going, how long it will take you to get there and when you will return by using a map. Before you leave share your route with your children and while you are away let them know where you end up every night. Your children can mark your stops on the map and know exactly where you are.
Remember that while some of these may seems goofy to adults you are trying to connect with your kids, so you have to entertain and connect at their level, just like you would at home.
Image courtesy of Stuart Miles at freedigitalphotos.net