Truckers Quick Healthy Snacks
The lifestyle of us truck drivers means sometimes our meal times are a little wonky. We often snack either out of boredom or because we're taking a lunch or dinner break later.
This can have poor health outcomes. Not to mention that when we eat like a child's wish list, we tend to feel poorly. It's not good all around.
We've put together a few very quick snack ideas that are better than eating chips or chocolate. These are quick and can be made on the go!
Avocado & Salsa on Ezekiel Toast

Ezekiel sprouted bread uses a combination of 6 grains and legumes that are easier to digest, increase mineral absorption, and contain increased antioxidants. If you've never heard of it you're in for a treat! You'll need a toaster or toaster oven in your truck because this is better toasted. Pair it with avocado and fresh salsa for healthy fats and energy.
Ingredients:
1/4 medium avocado
1 slice multigrain bread
2 tablespoons salsa
Prepare it: Toast bread and top with sliced or mashed avocado and salsa
Avocado Egg Salad topped multigrain Toast
Pair it with egg salad for a tasty protein-packed powerhouse.
Ingredients:
1/4 avocado mashed
1 large hardboiled egg (chopped)
Prepare it: Mix together avocado and egg with a dash of salt and pepper to taste on top of a slice of toasted multigrain bread
Baked Apple Chips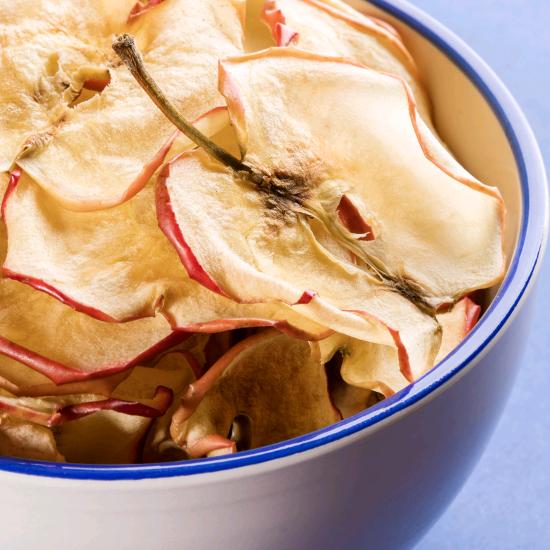 These are amazing! Reach for low calorie baked apple chips instead of greasy potato chips. Packed with carbs, heart-friendly fiber, and potassium.
Ingredients:
3 large Red Delicious apples, cored
1 tsp cinnamon
2 tbsp sugar
Prepare it:
Preheat oven to 200 degrees F and line 2 baking sheets with parchment paper.
Using a sharp knife, slice the apples as thin as possible.
Lay apple slices on parchment paper, making sure not to overlap them, sprinkle mix of cinnamon and sugar onto the sliced apples.
Bake for 40-50 minutes. Then flip apples, add cinnamon to the other side & bake for another 40-50 minutes. They should look shriveled up a bit, and the plain apples get a little golden brown.
They should feel pretty dry to the touch.
Remove from oven and let 'chips' cool completely before transferring to a sealed container for up to 3 days.