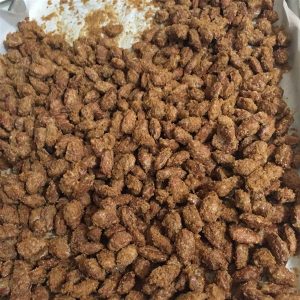 Are you looking for that perfect, crunchy, salty, sweet snack! Try out this great cinnamon roasted almond recipe that you can make at home and take with you. It's a great snack for the busy truck driver and it's really affordable to make.
INGREDIENTS
1 egg white
1 teaspoon vanilla
1/2 cup brown sugar
1/4 teaspoon salt
1 teaspoon ground cinnamon
4 cups whole almonds
DIRECTIONS
Preheat oven to 250 degrees
Lightly beat the egg white; add vanilla and beat until frothy but not stiff.
Add the almonds into the egg mixture and stir until well coated.
Mix the sugar, salt, and cinnamon, and sprinkle over the nuts. Toss to coat, and spread evenly on the cookie sheet. Use parchment paper for quick clean up).
Bake for 1 hour in the preheated oven, stirring occasionally, until golden. Allow to cool, then store in airtight containers.
Need more meal ideas for the truck? Check out more of our trucker friendly recipes.