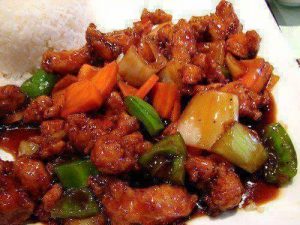 Keep more money in your pocket and eat healthier with home cooked meals you can make in the truck or make at home to take with you. This slow cooker Orange Chicken recipe can be made ahead of time and frozen, or made fresh in the truck with a crock pot. This recipe makes 4 servings and can be made chicken breast (healthier alternative) or your favorite store brand breaded popcorn chicken.
Ingredients:
2 large carrots, peeled and sliced about 1/2-inch thick
2 large red or green bell peppers, cut into 1/2-inch chunks
3 cloves garlic, finely minced
4 boneless skinless chicken breasts or 1 lb of breaded popcorn chicken
2 tsp. ground ginger
1 tsp. salt
1/2 tsp. pepper
8 ounces orange juice concentrate
Directions:
Put carrots, peppers, garlic, then the chicken, ginger, salt, pepper & frozen orange juice in Crockpot.
Cover and cook on LOW 4 to 6 hours or until the chicken is cooked through.
Serve with rice or noodles.