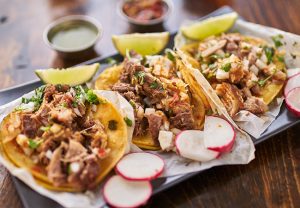 Looking for some fool-proof dinner ideas that can be made in the truck? Try this Cilantro Lime Chicken Recipe. Cooking in the truck really doesn't get much easier than tossing all the ingredients into a slow cooker before you get to work for the day.
INGREDIENTS:
1 lb. boneless skinless chicken breasts
juice from 2 limes
1/2 cup of cilantro
1 packet of taco seasoning
1 teas. dried onions
1/2 cup of water
DIRECTIONS:
Add all ingredients to the pot.
Either cook on low all day or cook for about 4 hours on high.
Shred chicken with a fork.
Serve cooked chicken in soft tortillas with your favorite toppings (cheese, salsa, sour cream, lettuce, tomatoes, etc.)
This recipe even works well served over a bed of rice or pasta, just add some of your favorite veggies.
Check out more of our Trucker Friendly Recipes.