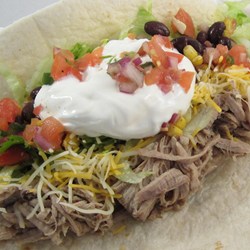 Eating the same meals all the time can bore your taste buds, but many driver's do just that. Truck driver's can enjoy a variety of tasty new meals that are easy to make in the truck, or ahead of time at home. This recipe is easily made in a slow cooker and can be eaten a variety of different ways, so it's a perfect choice for driver's wanting to add some variety to their meals. This slow cooker carnitas recipe makes a great filling for tamales, enchiladas, tacos, burritos, combine it with your favorite BBQ sauce and make a sandwich or serve it along with some rice and vegetables for a great meal.
INGREDIENTS Recipe makes 10 servings
1 teaspoon salt
1 teaspoon garlic powder
1 teaspoon ground cumin
1/2 teaspoon crumbled dried oregano
1/2 teaspoon ground coriander
1/4 teaspoon ground cinnamon
1 (4 pound) boneless pork shoulder roast
2 bay leaves
2 cups chicken broth
DIRECTIONS
Mix salt, garlic powder, cumin, oregano, coriander, and cinnamon together in a bowl.
Coat pork with the spice mixture.
Place the bay leaves in the bottom of a slow cooker and place the pork on top.
Pour the chicken broth around the sides of the pork, being careful not to rinse off the spice mixture.
Cover and cook on Low until the pork shreds easily with a fork, about 10 hours, turning the meat after 5 hours.
When the pork is tender, remove from slow cooker, and shred with two forks.
During cooking time add more chicken broth if needed.