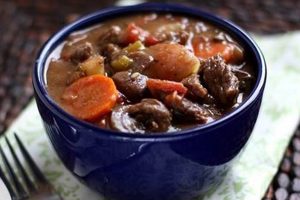 Are you looking for some easy to make, hearty recipes to take on the road with you? Check out this Irish Stew recipe. It's perfect to heat up in the microwave for a quick, filling lunch or dinner while you're out on the road.
INGREDIENTS
1 lb Beef stew meat
3 Cloves Garlic, minced
1 Onion, chopped
2 Carrots, chopped
2 Potatoes, peeled and chopped
2 Tbsp Flour
1 Tbsp Cooking oil
2 Tbsp Tomato paste
1 Tbsp Soy sauce
2 to 3 cups Beef stock/broth
1/4 cup Guinness
1/4 cup Red wine
2 Bay leaves
1/4 tsp Black pepper
1 cup Peas
DIRECTIONS
Toss meat with flour. Heat a skillet over medium-high heat. Add oil and then sear meat until browned on the outside.
Mix together tomato paste, soy sauce, beef stock (use more if you like it more soupy than stewy) and Guinness & red wine (if using) in slow cooker.
Transfer meat to slow cooker. Add garlic, onions, carrots, potatoes, bay leaves, and black pepper.
Cook on low for 6 to 7 hours or high for 3 to 4 until meat is falling apart and tender.
If using peas, microwave for ~1 minute and then fold them into stew.
Remove bay leaves. Season to taste with salt and pepper.