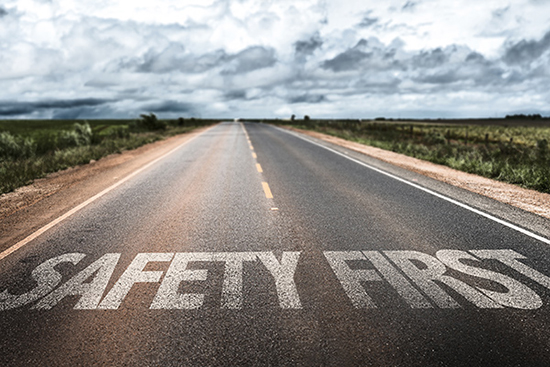 There's more to being a professional truck driver than just driving. As pro's, we're held to a higher standard. A high standard of safety and a higher standard in the way we interact with others during the course of doing our jobs.
Safety
At Len Dubois Trucking we want every aspect of our operations to be as safe as possible. That includes our driver's safety while operating their vehicle and all aspects of their job, our maintenance team, and our office staff at the building. The goal is that we have zero infractions, no accidents and no injuries.
It's an ambitious goal in a high-risk industry.
Vigilance
Vigilance is key. As any driver can tell you, it takes a fraction of a second for things around you to change. A momentary lapse in concentration or one bad decision can put a driver in a dangerous situation.
Our decisions should be made with safety (and compliance) foremost in mind. Small comprises to get the job done are dangerous decisions. With as many miles that a single driver drives, and considering the number of miles our fleet drives in a given month, small compromises add up to greater risk. The name of the game in a high-risk industry, such as ours, is risk reduction.
Courtesy & Patience
Drivers who are patient and courteous are naturally wired for safety. Behaviours such as defensive driving, are also considerate to other drivers on the road. Proper following distance, awareness of what's happening around your vehicle, proper logbook and HOS understanding, and time management can be learned.
However, avoiding incidents by allowing people to pass, giving people room to merge, yielding to more aggressive drivers at truckstops, getting out to look where you're backing, etc require a high degree of patients and courtesy. These are also safe practices and will prevent an incident.
Solve Problems Before Their Problems
We can make our lives easier by taking a few actions to prevent problems from happening in the first place.
Learning to properly plan trips and manage time will take the heat off so we're not rushed to make loading and loading appointments. Trip planning also allows us to plan for poor weather and keep us out of dangerous weather-related situations.
Proper communication is important. Trucking is a team effort and communicating properly allows drivers access to the team behind them. Your dispatch and/or safety department should be involved if you have safety concerns for whatever reason. And if you're delayed, shippers/receivers can usually reschedule your load if they know immediately that you're behind schedule.
Have you considered a dashcam? I know it's not a preventative but it gives you peace of mind knowing that you have some protection if you're involved in an incident.
We spend a lot of time at truck stops and rest areas in unfamiliar places. Sometimes these places can be, well, a little sketchy. Even at the best of times, truck stops are higher risk areas – there are a lot of trucks, trucks are backing up, and some drivers don't pay enough attention in parking lots. Safety at truck stops is a daily concern for drivers. Getting into good habits will reduce the risk of a parking lot incident.