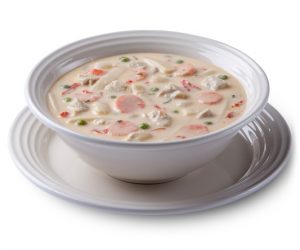 Here is a quick, simple, hearty recipe that will help warm you up on those cold winter days over the road. The recipe is best prepared at home but reheats well in the microwave.
INGREDIENTS
4 Tablespoons butter or olive oil
1 medium onion, peeled and diced
2 medium carrots, peeled and diced
2 celery stalks, diced
4 cloves garlic, peeled and minced
4 ounces mushrooms, diced
1/3 flour
3 cups chicken stock
2 cups milk
3 cups shredded cooked chicken
1 pound potatoes, diced
1 cup frozen corn
1 cup frozen peas
1 teaspoon Italian seasoning
1/2 teaspoon salt
1/2 teaspoon black pepper
DIRECTIONS:
Heat butter in a large stockpot over medium-high heat until melted (or heat the olive oil until it is shimmering). Add onion, carrots, and celery. Saute for 6-7 minutes, stirring frequently until the onion is soft and translucent.
Add in the garlic and mushrooms, and saute for 2 to 3 minutes, stirring frequently.
Stir in the flour until it is completely combined, and saute for an additional minute, stirring occasionally.
Gradually add in the chicken stock and milk, stirring frequently. Stir in the chicken, potatoes, corn, peas, Italian seasoning, salt and pepper until combined.
Bring the mixture to a simmer (be careful not to bring it to a boil!), stirring occasionally so that the bottom of the soup does not stick to the pan. Then reduce heat to medium-low, and continue simmering the soup for 10-15 minutes until the potatoes are soft and cooked through.
Season with salt and pepper, if desired.