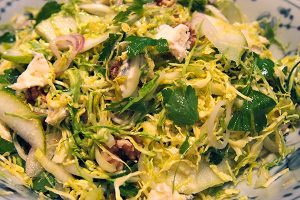 Are you looking for a new lunch or dinner idea? Check out this quick and healthy meal idea. Full of protein and high in fibre, it's sure to give you the energy you need to get through the rest of your day. The recipe makes four servings, but if you're not going to eat it all at once, you can package the chicken, vegetables and dressing separately to ensure it lasts a little longer in the truck.
INGREDIENTS
2 boneless, skinless chicken breasts
3/4 teaspoon kosher salt, divided
2 broccoli stems
2 tablespoons olive oil
2 tablespoons fresh lemon juice
1/4 teaspoon freshly ground black pepper
3 cups thinly sliced Brussels sprouts (from about 12 Brussels sprouts)
2 celery stalks, thinly sliced
1/4 cup toasted hazelnuts
1/4 cup fresh flat-leaf parsley, coarsely chopped
1 ounce Parmesan cheese, coarsely grated
DIRECTIONS
Place chicken and 1/2 teaspoon salt in a small saucepan and cover with water; bring to a boil. Immediately remove from heat, cover, and let stand 15 minutes.
Drain chicken and let cool completely. Using 2 forks, shred chicken into bite-size pieces; reserve.
Use a vegetable peeler to remove the outer layer of broccoli stems; discard. Continue peeling stems into long strips.
In a large bowl, whisk together oil, lemon juice, and 1/4 teaspoon each salt and pepper.
Add broccoli strips, Brussels sprouts, celery, hazelnuts, parsley, and chicken to bowl with dressing; toss. Top with cheese.