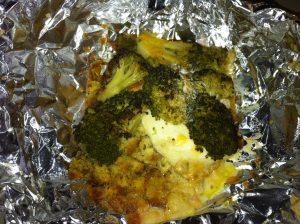 Here's an easy dinner that you can toss together in about 5 minutes. These packs can be made in the truck using your lunch box stove or cooked at home and warmed up on the road. Either way you'll be smiling with this delicious home cooked meal.
INGREDIENTS
1 package Stuffing mix; chicken flavor
1 1/4 cups Water
4 Boneless skinless chicken breast halves
4 cups Broccoli Florets
1 cups Shredded cheddar cheese
4 slices Cooked bacon; crumbled
4 tbsp Ranch dressing divided
DIRECTIONS
Spray 4 large sheets of heavy-duty foil with oil.
Combine stuffing mix and water.
Spoon 1/4 of the stuffing mixture onto the center of each foil sheet.
Top stuffing with a 6oz. chicken breast half.
Top chicken with 1 c. broccoli.
Sprinkle with 1/4 of the cheese and 1 slice of bacon, crumbled.
Drizzle with 1 T. ranch dressing.
Bring up foil sides and fold to seal, leaving room for heat circulation inside.
Place packets on a cookie sheet and bake 35-40 minutes depends on the size of your chicken breasts).
Remove packets and let stand 5 minutes.
If you're going to be making these in your lunch box stove then increase the cook time to 1 hour to 1.5 hours. Generally lunch box stoves heat up to 300 degrees.