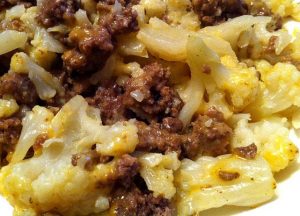 Cooking meals at home to take on the road with you doesn't have to take too much time. Check out this quick, low carb Cheeseburger Cauliflower recipe. This recipe makes 6 servings and freezes well, so you can pack it up and take on the road with you.
INGREDIENTS
1 1/2 pounds ground beef
1 pound cauliflower
1 cup cheddar cheese
1/2 teaspoon garlic salt
salt and pepper, to taste
DIRECTIONS
Steam or boil cauliflower until soft.
While cauliflower is cooking, brown hamburger. Drain off grease.
Add cauliflower, seasonings and cheese.
Mix until cheese is melted and serve.
Get more trucker friendly recipes from Len Dubois Trucking!