Canada Only Lanes
We are growing and have opportunities for Canadian-Only Company Drivers. These lanes are Canadian runs that go to Western and Eastern Canada.
Len Dubois Trucking has over 30 years of success. We are always looking for professional drivers to join our growing Winnipeg team. We pride ourselves on the close working relationships we have with our driving team and our commitment to providing a healthy work/home balance. After all most of our management team have been over the road, long haul drivers, or have grown up in trucking families. If there is one thing we understand it's life as a truck driver. Len Dubois Trucking drivers earn top dollar, plus receive regular incentives for the work they do.
Our experienced operations and dispatch team have spent years developing relationships with many regular, satisfied clients. We keep you moving with regular outbound and inbound freight and ensure regular home time so that you can enjoy a comfortable work-home life balance.
What We Offer Our Fleet
Our commitment to our drivers goes beyond the pay scale. Working with our drivers, providing them with the tools to get the job done as safely and professionally as possible, supplying late-model, well-maintained tractor units and trailers, staffing the office with competent managers who are not only there to do a job, but understand what the job is because they have been over-the-road drivers, or come from trucking families themselves are all part of what makes Len Dubois Trucking a great place for long-term career goals.
Up to $0.45 per mile starting base mileage rate, the more experienced the more we pay!
$0.03 per mile for drivers who run 10,500 plus miles per month.
$0.03 Premium Mileage rate for all miles run on all LTL loads with 2 or more pick and drops.
$25.00 per stop on regular freight picks and drops – we pay all stops, first and last included.
$200.00 per statutory holiday paid over & above your wage.
$75.00 per month paid for your cell phone expense.
Truck idling incentives.
Earn even more with the Recruiting Incentive Program.
Mileage Premium & $40 Drop Premium on Multi-stop loads – paid per mile and drop.
$25.00 per hour paid for waiting and detention pay with the approval of the operations department
$100.00 layover pay for single drivers; $140.00 for teams.
Miles paid on PC Miler practical miles, not shortest miles.
Paid on the 15th and last day of the month.
Health, Dental, and Disability insurance, excellent coverage subsidized by the company.
Assigned trucks. No slip-seating.
Newer Volvo, and Freightliners
Anti idle device on all new and arriving units for increased cab comfort.
Satellite communication with dispatch.
$200.00 U.S. funds cash float for emergencies and truck expenses.
Who We Are Looking For
We are always on the lookout for professional drivers who want to become part of the team for the long haul. If you are a company driver or owner operator who is committed to safety and compliance, quality customer service, and strong work ethics we may be a good fit for each other.
Currently, Len Dubois Trucking has openings for Owner Operators, Company Drivers and Canada Only Drivers. If you have a minimum of two years of over-the-road experience, a clear driver's abstract and a clean criminal record contact us today.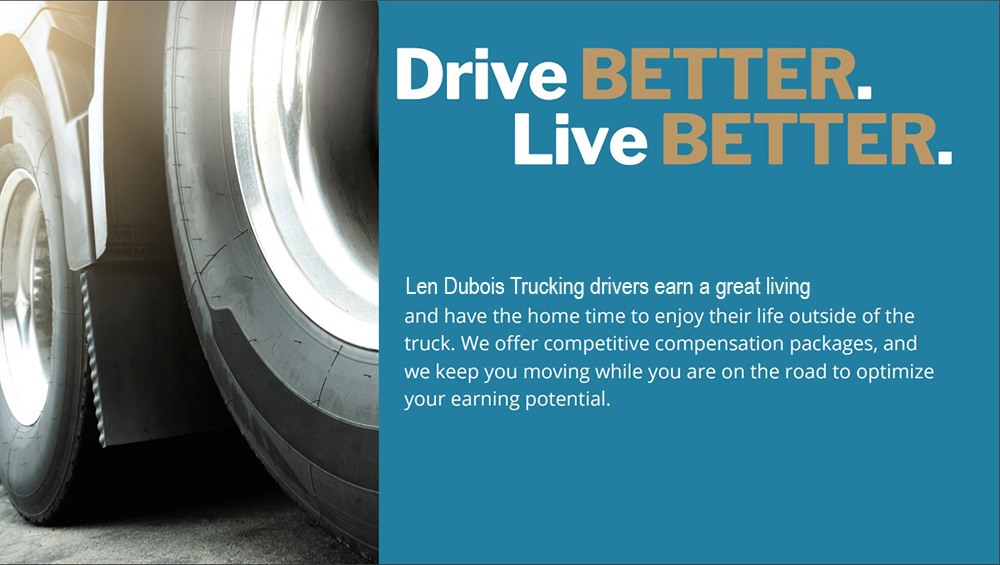 Earn a Good Living with Len Dubois
We are able to ensure good miles and home time with regular Winnipeg-based clients, regular lanes, and long-term clients. Our experienced team of dispatchers works hard to ensure that your time off and resets are taken at home, not on the road. For drivers, this equals above-average pay and the ability to enjoy a life outside of the truck.
Ask John About the $1500 Sign-On Bonus for Company Drivers and $3000 Sign-On Bonus for Owner Operator's
Let's have a conversation and see if we're a good fit for you! Call John, Safety Manager/Driver Recruiter 1-888-590-2760 Ext 309 today.
If you'd prefer, John can contact you. Fill out the form below