Canada Only Lanes
Len Dubois Trucking has over 30 years of success. If you are an Owner Operator, now is your chance to become part of our family; now is your time to shine; now is your time to make the most out of your career with us.
We are growing and have opportunities for Canadian-Only Owner-Operators. These lanes are Canadian runs that go from coast to coast. Typical runs last 10 -12 days providing owner-operators with an average of over 10,000 miles per month.
Our experienced operations and dispatch team have spent years developing relationships with many regular, satisfied clients. We keep Owner Operators moving with regular outbound and inbound freight and ensure regular home time so that you can enjoy a comfortable work-home life balance.
What We Offer
Our owner-operators earn above industry average earnings with percentage or per mile contracts, company paid tolls and scales, and more.
Our office staff and management have decades of experience in the trucking industry and many have been over the road. We know the importance of a quality relationship, good miles, a home life – and the necessity to balance it all.
Who We're Looking For
A big part of our company culture is a positive attitude. Because we have regular long-term clients, professionalism is a necessity in every part of our company including drivers, dispatch, and management. If you are an Owner Operator, who is committed to Safety and Compliance, quality customer service, and strong work ethics we may be a good fit for each other.
If you are a professional truck driver, who is committed to Safety and Compliance, quality customer service, and strong work ethics you may be just the person we are looking for. Successful candidates will have:
Percentage or per mile contracts.
Paid every week on the 7th, 15th, 22nd, and last day of the month.
Company-paid decal package.
Company-paid tolls & scales.
Toll cards & transponders for tolls and ferries.
Deductible buy down available.
Health, Dental, and Life insurance coverage is subsidized by the company.
Satellite communication with dispatch.
Regular Winnipeg outbound clients and freight.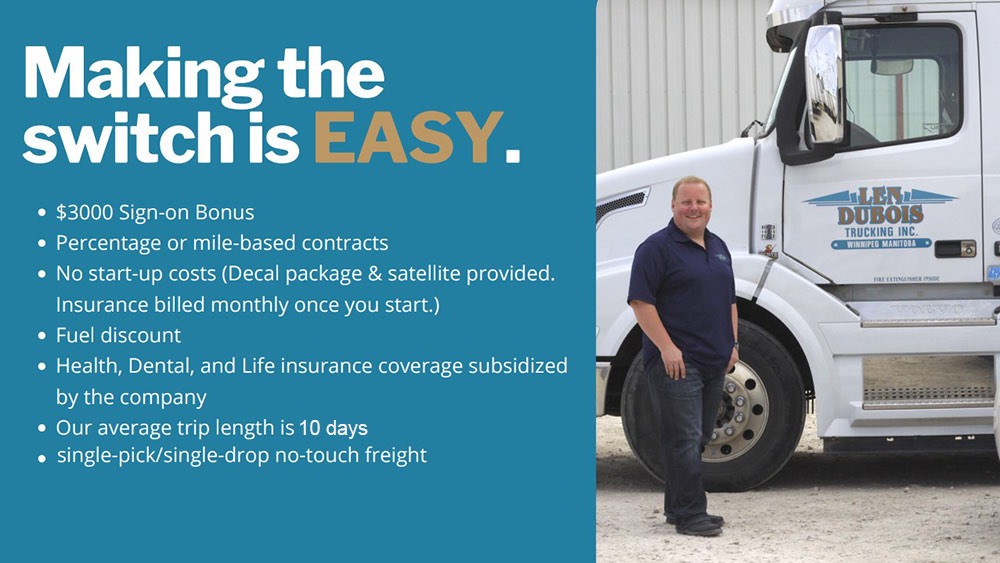 Earn a Good Living with Len Dubois
We are able to ensure good miles and home time with regular Winnipeg-based clients, regular lanes, and long-term clients. Our experienced team of dispatchers works hard to ensure that your time off and resets are taken at home, not on the road. For drivers, this equals above-average pay and the ability to enjoy a life outside of the truck.
Ask John About the $1500 Sign-On Bonus for Company Drivers and $3000 Sign-On Bonus for Owner Operator's
If you are interested in learning more about Len Dubois Trucking please feel free to fill out the form below, or contact John directly at 1-888-590-2760 ext. 309