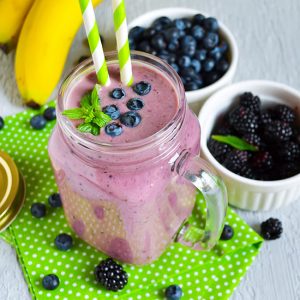 It's not always easy getting breakfast or a snack in when facing the deadlines of being an over the road trucker. This Berry Yogurt Smoothie only takes 5 minutes to put together and is packed with protein to keep you fueled.
INGREDIENTS:
¾ cup fresh blueberries
¾ cup fresh blackberries
5.3 ounce package plain Greek yogurt
1 cup vanilla soy milk
1 whole banana
INSTRUCTIONS:
Add all of the ingredients to a blender.
Pulse for 30 seconds, stir and pulse for an additional 30 seconds.
Pour into two glasses and serve immediately or refrigerate until ready to serve.