Tips for Successful Trucking Relationships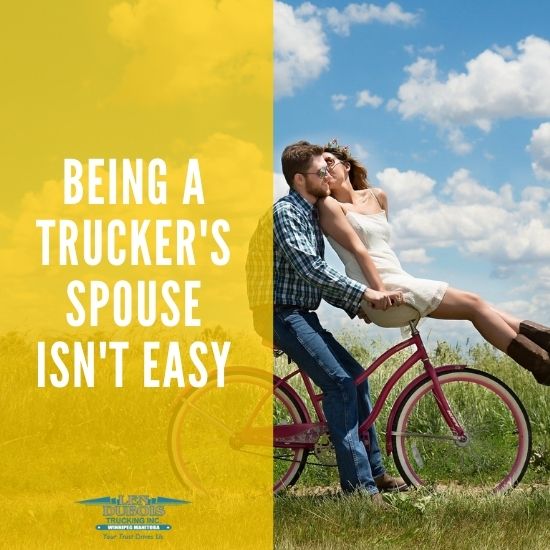 It's not easy being a professional OTR driver. It's difficult being married to a professional long-haul driver too. Trucking is definitely a family thing.
Trucking can be hard on relationships, especially your marriage. Time away is difficult, and when you combine the time away with the usual pressures of family life, it's easy for trouble to start brewing.
While trucking life presents challenges, there are ways to mitigate some common problems.
Learn About Trucking
It can be helpful to learn about the industry and learn the language of the industry. Trucking is unique and in a lot of ways, can look bizarre to outsiders.
While your trucker can help you understand the trucking industry, it's helpful to stay up to date with trucking news and learn about different parts of the industry. You're only getting one person's opinion if you solely rely on your trucker to inform you about trucking.
Let's be honest, this job is tough and stressful. There are times for every driver when they are exhausted and stressed. These are the times they need to vent and there's nothing wrong or abnormal about that – it's healthy. But it can give you a skewed understanding of the industry if that's mostly what you know about trucking.
Go on a Run
Speaking of learning about the trucking industry – go on a run with your truck driver spouse. You'll get a taste of the day-to-day life of professional drivers. Seeing your spouse's day-to-day life firsthand will help you relate to what they are talking about when you chat and communicate.
Understanding what drivers go through will likely put your mind at ease about any safety concerns you might have. Trucking has safety risks and witnessing your spouse's professionalism can give you peace of mind about your spouse's safety when they're on the road.
Money and Budgeting
Ah, money. Family finances can be a point of frustration between any couple and when you're married to a trucker those frustrations can be exacerbated by how truckers get paid.
Trucking is a lucrative business with the potential for drivers and owner-operators to earn a nice living. Trucking can also be feast or famine at times and sometimes loads and runs don't go as smoothly as they should. This leads to paychecks that can vary. Some pay periods are high while sometimes a pay period is a little low. Trucking is not a great job to live paycheck to paycheck.
Following household budgets is a must and drivers need to set over-the-road budgets too.
Communicate Daily
Communication is key to happy relationships. Sometimes it can be hard to make time to communicate every day. Between your daily life and the daily life of your pro driver spouse, carving out time every day takes effort.
Modern technology makes daily communication a little easier. From video chat to a few simple texts, there is no reason why you can't at least touch base daily. But you both need to intentionally make time for each other.
Setup Support
It is frustrating when something at home goes wrong, and your spouse is on the road and can't help at that time. It's frustrating for everybody, including your truck driving spouse.
Setting up a support system with people you can count on will give everybody peace of mind. Know who you can count on in case of an emergency. Know who you can count on if your car breaks down or who will watch the kids when something unexpected comes up.
You're on the Same Team
Relationships are more difficult when one of you is away as much as a professional driver is away from home. Keep in mind you both are dealing with it. It's okay to talk about it. It's okay to be frustrated by the time away. And both of you are in it together even when you are 2000 miles physically apart.