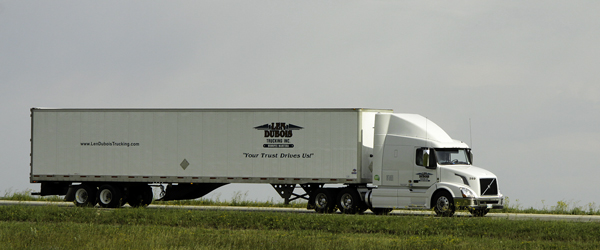 "Show me the money!" That famous statement sums up one of the your primary concerns as an owner operator. There are many things to consider when signing on with a company; percentages, average revenue to the truck, specific lanes, costs (insurance etc), relations with dispatch, and the list goes on. All these thing come back to the same thing – your bottom line.
Where's the money? One place is located on your truck in your fuel tanks. There's gold in them tanks, if you do it right. That is to say, get the best MPG possible. Better fuel economy will make your truck, your business, more profitable.
Len Dubois Trucking recently made a sizable investment with the purchase of 40 new wind deflectors on our trailers. These deflectors reduce the aerodynamic drag on the trailer. 60+ of our 80 trailers are now equipped with fuel saving technology. We've tested and have realized a 7% MPG increase with these devices. This means you'll save on fuel with Len Dubois Trucking. Those savings, coupled with the fuel rebate program we get from where our fleet fuels, leaves more gold in your pocket and not blown out the stack.
So much of trucking is standardized. The trucks are made the same, the trailers are made the same and pay and compensation packages are similar. Competition keeps rates in check and we work with thin margins. Companies and owner operators need to be smart and efficient.
We continue to succeed in trucking through smart planning and investments, great partners, and a whole lot of hard work.