Stay connected with Winnipeg's Len Dubois Trucking fleet and have some fun! Follow us on Facebook & Twitter for updates, info, trucking pictures, and more!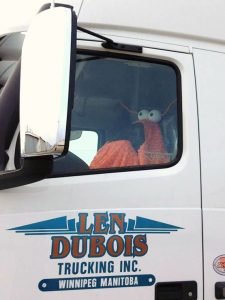 Halloween is a fun time of year for young and old alike. Some members of our team get right into the Halloween spirit, decorating their trucks, dressing up, carving pumpkins and of course getting the kids ready for the big night. Share you fun Halloween spirit with the rest of us shoot it and share it. Send us your Halloween pictures and we'll share it for others to enjoy.
Email your pic to LenDuboisTrucking@gmail.com
Happy Shooting!