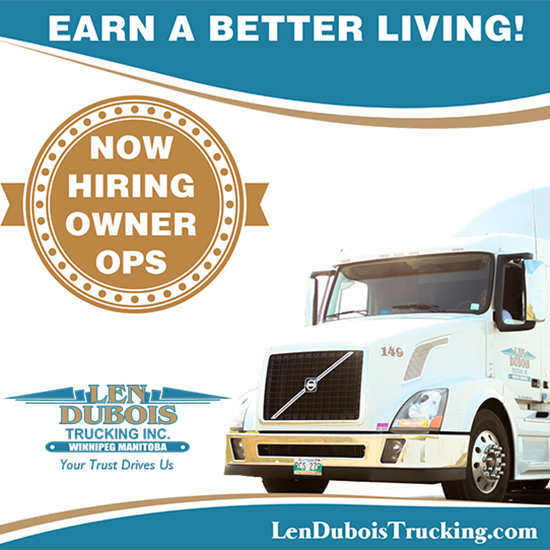 Len Dubois Trucking is medium-sized, family-owned trucking company. We are an honest, safe and employee-minded company to work for. Not only do we place a lot of emphasis on providing truck drivers with a healthy work/home balance we provide our drivers with the miles they need to earn a great living.
Len Dubois Trucking's position is that it is unhealthy for drivers to be away from home, or out on the road for weeks on end. Through the development of regular lanes and clients, we can offer 10,000 plus miles per month and still ensure that they get the quality home that every driver deserves.
Now Hiring Owner Operators
Our owner-operators earn higher than industry average revenue! Regular clients and regular freight allow our fleet to run efficiently and profitably.
We offer you a family-friendly work environment, a team of professionals that are always there to help you get the job done and a strong commitment to your safety, health, and wellness. With Len Dubois Trucking, Owner Operators maximize their business earnings with:
Percentage or per mile contracts.
Paid every week on the 7th, 15th, 22nd and last day of the month.
75% U.S. miles.
Company paid decal package.
Company paid tolls & scales.
Toll cards & transponders for tolls and ferries.
Deductible buy down available.
Health, Dental, and Life insurance coverage subsidized by the company.
Satellite communication with dispatch.
Regular Winnipeg outbound clients and freight.
Who We're Looking For
We build our team with professional truck drivers, who are committed to Safety and Compliance, quality customer service and strong work ethics.
Successful candidates will have a valid Class One Driver's License, will be able to travel to the U.S. and will be required to pass a Len Dubois Trucking road test. Candidates should also be able to provide a clean driver's abstract and an up-to-date criminal record check.
Join Our Team Now! Apply Today!