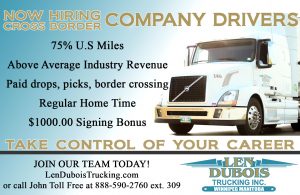 Len Dubois Trucking is looking for professional class one company drivers to join our growing team. We are a medium sized trucking company based out of Winnipeg, Manitoba and pride ourselves on our strong commitment to our driving team.
Who We're Looking For
If you are a professional truck driver, who is committed to safety and compliance, quality customer service and strong work ethics you may be just the person we are looking for.
Successful candidates will have:
A valid Class One Driver's License
Two Years Experience
Will be able to travel to the U.S.
Ability to pass a Len Dubois Trucking road test
A clean driver's abstract and
An up-to-date criminal record check
What We Offer
We work with our team of drivers and do our best to ensure that their work schedule does not keep them from having a life outside of the truck. Most of our drivers choose to run 10,000 or more miles per month with regular home time.
We offer you a family friendly work environment, a team of professionals that are always there to help you get your job done and a strong commitment to your safety, health and wellness.
Take control of your career!
If you are interested, contact John via the Join Our Team page or call 888.590.2760 ext. 309.