Len Dubois Trucking is a family run trucking company located in Winnipeg, Manitoba that is dedicated to the health and well being of our fleet. Follow us on Facebook & Twitter for updates, info, trucking pictures, and more!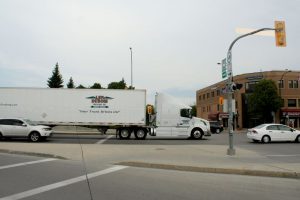 It's time to celebrate the professional truck driver! National Truck Driver Appreciation Week, held September 7 – 12, is a chance to extend a special thank you for all their hard work.
There are over 3.75 million professional truck drivers in North America, logging over 432 billion miles driven per year to deliver the goods consumers need every day. 90 percent of all consumer goods in Canada and 70 percent of all consumer goods in the United States, are delivered by truck. The simple truth is, trucking is vital to our economy; remember if you bought it a truck brought it.
It's no secret that the backbone of this dynamic industry is its drivers. Millions of these dedicated men and women travel the roads every day, sacrificing a lot personally to deliver the freight that keeps the country moving. They miss birthdays, anniversaries, family dinners, school plays and many other special moments that most of us take for granted.
National Truck Driver Appreciation Week is a time for the general population to recognize and appreciate the sacrifices that our drivers make every day out on the road. Be sure to let the men and women driving those trucks down the highway know it's appreciated.
Thank you drivers for a job well done!