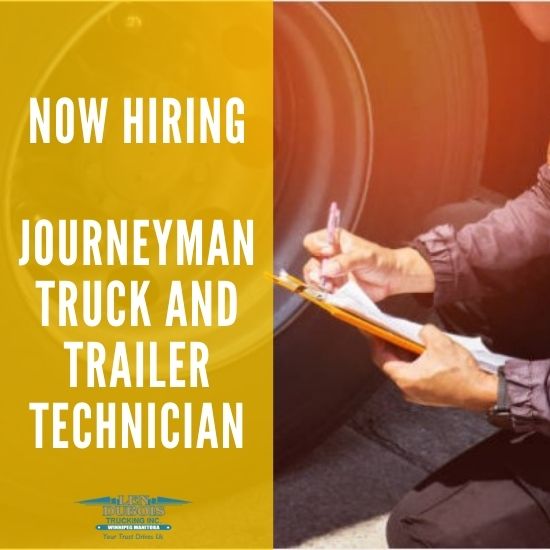 Are you looking for an opportunity to use your self-motivated passion and talent for equipment repair in a profitable and entrepreneurial business?
At Len Dubois Trucking we are proud of our commitment to safety, and it starts at home with well-maintained facilities and equipment. Our on-site Technicians inspect & repair each unit before it leaves our home terminal ensuring the safety of the public and our drivers from the start of each trip.
The position will be 4 /10-hour days – The shift will be Wednesday to Saturday from 7:00 – 5:30
BACKGROUND
Since 1986, Len Dubois Trucking has been meeting the transportation and logistics needs of its clients across North America. It has been our tradition through two generations to create the highest standard of service that exceed our customer's expectations.
Len Dubois Trucking believes that it is important to give back to the community where we work, live and play. We have been very involved in our charities of choice: The Winnipeg Santa Claus Parade, The Children's Museum, Special Olympics, and STARS Air Ambulance.
At Len Dubois – Your Trust Drives Us!
This position is located in our outstanding new facility in CentrePort.
For more information on our organization go to http://lenduboistrucking.com/
OPPORTUNITY
We are growing and we are looking for someone with exceptional mechanical aptitude and skills that enjoys working on heavy-duty trucks and trailers to join our dynamic and professional team.
The position requires strong communication skills both oral and written. The Journeyman truck and trailer technician plays a key role in the organization and must work closely with all of our drivers and internal departments to ensure a high level of customer service is provided.
RESPONSIBILITIES
This position provides experienced diagnostic and repair skills. Diagnoses and completes repairs and/or services on heavy-duty trucks and trailers as well as other transportation equipment to ensure customer satisfaction while working as a member of our team while maintaining strong internal relationships. Communicates and coordinates repairs and parts required with service writer.
Some general functions and duties of the role:
Maintain, inspect, service, test, and repair all systems on trucks, trailers, mobile equipment and vehicles used in shop, yard and road service;
Perform general maintenance and service on the company and owner-operated vehicles which at times includes problem solving and diagnoses and keep sense of urgency ;
 Make the evaluation of parts for reuse, repair or replacement;
Work to blueprints, schematic drawings, service manual, and other like information. Adapts to new methods, processes, materials, and equipment;
Perform non-structural welding, (i.e. Tacking);
Perform adjustment and calibration to mechanical components;
Perform modification and construct mechanical assemblies;
Perform maintenance and low voltage repairs of electrical systems;
Use various hand and power hand tools;
Operate equipment such as overhead or mobile cranes and forklifts to assist in assignments;
REQUIREMENTS
Ideally you will have:
Journeymen Certified Truck and Trailer Mechanics to work out of an established shop in Winnipeg, MB.
The ideal Diesel Truck & Trailer Technician will have 3+ years' experience repairing trucks and trailers and will service both fleet and third party equipment.
Valid Class 3 license, Air endorsed
Technicians must have their own tools, valid driver's license and clean driving record; and either hold a valid CVIP license or have the ability to obtain.
Strong knowledge of electrical systems and emissions/after treatment systems, engine diagnostic software (Detroit, Cummins, Volvo) is considered an asset
Journeyman license to operate ……
Proficient in Microsoft Office – Excel, Word, Outlook
Multitask and prioritize in a fast paced environment with high volume of work load
Ability to manage a busy schedule with constant changes (flexible)
Preference given to those with a journeymen diesel, Heavy – Duty mechanic with welding experience and knowledge
Strong problem solving and computer skills;
Must be able to work within strict established safety and work guidelines/rules to complete job;
TYPE OF PERSON WHO WOULD SUCCEED IN THIS ROLE
Direct personality – solves problems in an innovative and decisive manner
Positive and outgoing – interacts in a socially engaging manner
Sense of urgency – with a high tolerance for ambiguity
Detail oriented – with the ability to get the job done
High level of commitment, integrity and dependability
A driver for bottom-line results
WHAT WE OFFER
A dynamic, growing, award-winning company with the opportunity to take your career to the next level
A strong corporate culture that is committed to personal and professional growth
A strong compensation package, with excellent benefits
Continuous learning opportunities to enhance your career
Working with a fun team that maintains a family like atmosphere
A corporate uncompromising commitment to safety
Strong support from organization's ownership
NEXT STEPS
If you're excited about this opportunity and believe you are qualified to join our team, we would love to hear from you. Please send us your resume, and maybe a cover letter that talks about your relevant qualifications and work experience in Canada and Why you feel you are you a good match for this role.
By applying to this position, you are confirming you possess either a Canadian citizenship or permanent resident status.
We would like to thank all applicants in advance for their interest in us.
Job Types: Full-time, Permanent
Salary: $30.00 per hour
Additional pay:
Overtime pay
Benefits:
Casual dress
Dental care
Disability insurance
Extended health care
Life insurance
On-site parking
Paid time off
Schedule:
10 hour shift
Day shift
Application question(s):
Do you have your own tools ?
Do you live in Manitoba ? Where ?
Education:
AEC / DEP or Skilled Trade Certificate (preferred)
Experience:
Truck / Trailer repair: 3 years (preferred)
engine diagnostic software (Detroit, Cummins, Volvo: 2 years (preferred)
Licence/Certification:
class 5 (required)
class 3 (preferred)
CVIP license (preferred)