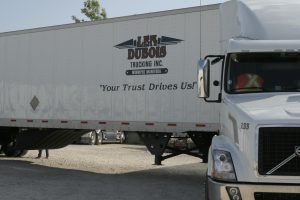 If you want to work for one of the best trucking companies in Winnipeg, Manitoba apply with Len Dubois Trucking today!
Len Dubois Trucking is medium-sized, family owned trucking company. We are an honest, safe and employee-minded company to work for. Len Dubois Trucking places a lot of emphasis on providing drivers with a healthy work/home balance. The company's position is that it is unhealthy for drivers to be away from home, or out on the road for weeks on end. Through the development of regular lanes and clients Len Dubois Trucking can offer company drivers and owner operators 10,000 to 12,000 miles per month with an average over-the-road time of 6-8 days.
Len Dubois Trucking also has some unique job positions for part time and substitute company drivers. These positions are perfect for retired truck drivers who miss the road, farmers who need to supplement their income during the winter, or drivers who don't like to be away from home for too long.
We offer a competitive pay scale, paid drops, border crossings, offer monthly incentives and subsidized health benefits. We operate late model trucks, 2011 and newer. Best of all we are committed to providing our drivers with a healthy work/home balance.
 Len Dubois Trucking is a family-run transportation and trucking company in Winnipeg, Manitoba. We are looking for quality Owner/Operators and company drivers. Join our team today.