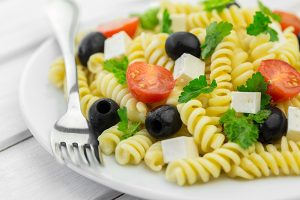 Here's a quick meal idea for trucker's who are looking to add some variety to their meals out on the road. This Italian Pasta Salad can be a meal on its own, or used as a side. It lasts well in the fridge, so you can make it at home ahead of time and take it with you. Plus, you can change out the ingredients, adding or removing vegetables to suit your tastes.
INGREDIENTS
1 (12 ounce) package tri-color rotini pasta
3/4 pound Italian salami, finely diced
1/2 green bell pepper, sliced
1/2 red bell pepper, sliced
1/2 red onion, chopped
1 cup Italian-style salad dressing
1 (6 ounce) can sliced black olives
8 ounces small fresh mozzarella balls
3 (.7 ounce) packages dry Italian-style salad dressing mix, or to taste
1/2 cup shredded Parmesan cheese
DIRECTIONS
Bring a large pot of lightly salted water to a boil; cook rotini at a boil until tender yet firm to the bite, about 8 minutes; drain and rinse with cold water until cool.
Combine pasta, salami, green bell pepper, red bell pepper, onion, salad dressing, olives, and mozzarella cheese in a large bowl. Mix dry salad dressing into pasta; sprinkle with Parmesan cheese.