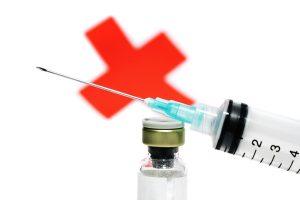 While the flu can seem similar to a common cold, the symptoms are usually more severe. Fever, body aches, extreme tiredness and a dry cough are more common with the flu than with a common cold. Also, the flu is more likely to lead to serious problems like pneumonia, bacterial infections and hospitalization. Getting the flu vaccine every year is a preventative measure you can take to protect yourself and others against the flu.
Yearly Vaccinations
The flu vaccine changes every year because the viruses that infect us with the flu change from year to year and the protection provided by the vaccine decreases over time.
There are many different strains of the flu virus and the vaccine simply cannot protect against all of them. The global spread of flu viruses are monitored and the yearly vaccine is developed to protect against the four strains of flu that are most likely to cause most of the illness during flu season.
Getting the flu vaccine will not prevent you from getting the flu all together, however it will protect you against being infected by the most wide spread and common flu viruses.
Who Should Get the Flu Vaccine
Everyone over 6 months of age can get vaccinated against the flu. It is especially important for those who are at increased risk, or are around people who are at increased risk, of serious illness from the flu. This includes:
Seniors aged 65 years or older
Residents of personal care homes or long-term care facilities
Children six months to five years of age
Those with chronic illness such as: Cardiac or pulmonary disorders; Diabetes; Cancer, Renal disease; Anemia or hemoglobinopathy;
Pregnant women
Health care workers and first responders
Individuals of Aboriginal ancestry
People who are severely overweight or obese
Or as determined by your primary health care provider
Who Should Not Get the Flu Vaccine
People with a high fever should not get immunized. But, those with a mild illness, like a cold, can still get the flu vaccine.
History of severe allergic (anaphylactic) reaction to a previous dose of any type of influenza vaccine or any component of FluMist.
Those who have an allergy to eggs.
Those who have severe asthma or active wheezing in the last 7 days.
Those on long term Aspirin treatment in the last 4 weeks.
Those with a history of Guillain-Barré Syndrome (GBS) within 6 weeks of receipt of a previous dose of influenza vaccine without another cause being identified.
Where to Get Vaccinated in Manitoba
If you have questions about the flu vaccine, the best thing to do is speak with your doctor or local public health nurse. They will be able to answer any questions you may have. Manitoba Flu Clinics start in October and are located throughout the province. Remember it takes at least two weeks for the vaccine to become effective, so if you're going to get vaccinated, it's best to do it early on.