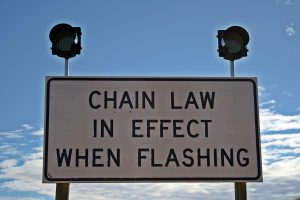 While Len Dubois Trucking does not expect our drivers to chain up, you are still required, by law, to carry chains. Starting October 1st most jurisdictions where chain ups occur will require chains in the truck. DOT officials will be checking for chains, so make sure you have them. Your truck should have a set of chains that includes four singles and two triples.
Time to Shut Down
It is important to check weather conditions and mountain passes before you arrive. Our company's policy is that if there is a chain up warning in effect – it is not safe to drive. Shut down and proceed with your trip once the chain warnings have been lifted and the road conditions have improved. Remember to contact dispatch to keep them apprised of your situation.
Sometimes You Gotta Do What You Gotta Do
If you're stuck and have to put those chains on the truck a general rule of thumb is that a full chain up involves chaining:
All four tires on front drive axle
Outside tires of rear drive axle
One tire on each side of the trailer
If you have questions about chains or need a refresher course on how to chain up stop by the maintenance department or talk to John.
For more information about chain up requirements in different jurisdictions check out these links
Chain Law Information by OOIDA
British Columbia Commercial Truckers About Chains