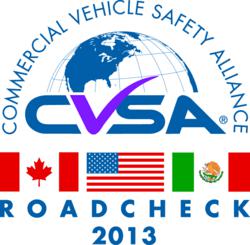 Beginning Tuesday June 4, 2013 and running for a full 72 hours, the Commercial Vehicle Safety Alliance (CVSA) and its members across the United States, Canada and Mexico will be participating in Roadcheck 2013. We know that we won't have any problems, but as a reminder:
Make sure you are completing thorough pre-trips,
Ensure that your load is properly secured,
Keep your log books legal and up-to-date to your last status change
It's easy to get complacent and not complete your last status update; this is one of the most common violations. For minor log book violations like this driver's are generally issued a warning citation. While this doesn't seem like a big deal it counts against our safety rating.
This is the 26th annual enforcement and outreach campaign promoting commercial vehicle safety. Inspectors will conduct Level I inspections of trucks, tractor-trailers, buses and motor coaches. Loads may also be checked to ensure that they have been secured properly. Approximately one in ten out-of-service violations issued during Roadcheck are for improper loading.
During the 72 hour Nationwide Roadcheck it is estimated that 10,000 federal, state, provincial and local inspectors at more than 1,500 locations across the continent will perform approximately 75,000 inspections.
The CVSA provides numerous resources for drivers and carriers. View their Roadcheck Checklist for Drivers or visit their site for more information.
Len Dubois Trucking would like to thank our driving team for their continued professionalism and safe driving. Keep up the good work and let's not get any violations out there.