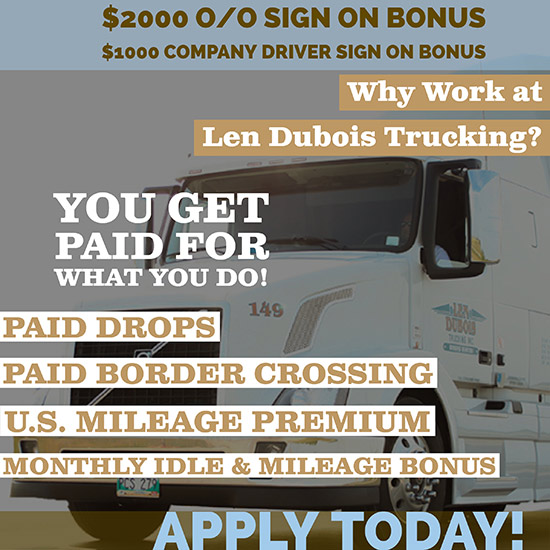 Are you looking for a new career opportunity in trucking? Why not consider Len Dubois Trucking? We've been in business for over 30 years and have just expanded our operations to a new, larger facility. Len Dubois Trucking has been growing at a steady rate for the past decade and we are always on the lookout for more professional company drivers to join our expanding fleet.
Get Paid For All That You Do!
We pay drivers for the work they do so that our team can work smarter, not harder. As a quality experienced driver, you want and deserve to be properly paid for your skills. That is Len Dubois Company Drivers receive:
Base Pay
Up to $0.45 per mile starting base mileage rate, the more experienced the more we pay!
Plus
$0.03 per mile for drivers who run 10,500 plus miles per month.
$0.03 Premium Mileage rate for all miles run on all LTL loads with 2 or more pick and drops. This includes Northbound and Southbound lanes. (excluding multi-stop).
$0.01 addition paid for all U.S. miles run.
$25.00 per stop on regular freight picks and drops – we pay all stops, first and last included.
$10.00 per Border crossings paid.
$200.00 per statutory holidays paid over & above your wage.
$75.00 per month paid for your cell phone expense.
Truck idling incentives.
Earn even more with the Recruiting Incentive Program.
Mileage Premium & $40 Drop Premium on Multi-stop loads – paid per mile and drop.
$25.00 per hour paid for waiting and detention pay with the approval of the operations department
$100.00 layover pay for single drivers; $140.00 for teams.
Our Company Culture
Our drivers are more than just truck numbers; they are fathers, mothers, sons, and daughters. Most of our office team have been over the road drivers, or come from trucking families and that is why Len Dubois Trucking works with our fleet to ensure they receive regular home time and that drivers make it home for important life events.
Through regular lanes and clients, our drivers enjoy great miles and regular home time. For our fleet, this means that you don't have to be away from home for weeks on end simply to make ends meet.
Meet Our Recruiter & Driver Safety Manager
John, our Recruiter and Driver Safety Manager will be on-site at the Jobs Canada Winnipeg Job Fair on September 26, 2019. This is a great opportunity to introduce yourself and get him your resume. Of course, in this industry, your availability can be difficult, so you can also send John some information by filling out the form below.