Roadcheck 2023 is May 16-18
The Commercial Vehicle Safety Administration (CVSA) will hold Roadcheck 2023 on May 16-18, 2023. This year, Roadcheck will focus on anti-lock braking systems (ABS) and cargo securement.
While ABS system violations won't lead to being placed out-of-service, your ABS system is an important safety system that should be in proper working order for the safe operation of your commercial vehicle.
According to the CVSA website, improper or inadequate cargo securement accounted for 10.6% of all vehicle out-of-service violations discovered during last year's International Roadcheck, and past International Roadcheck data routinely found cargo securement violations in the top five of vehicle out-of-service violations.
Proper load securement is a constant safety concern that affects the safety of travellers on the roads and personnel at shippers and receivers.
CVSA International Roadcheck & Trucking
CVSA's International Roadcheck is the largest commercial motor vehicle enforcement program in the world. Every year, the CVSA conducts a large-scale, North American Wide Commercial Vehicle Safety Blitz focusing on driver safety, compliance, and education.
International Roadcheck is a high-volume, high-visibility three-day enforcement initiative that highlights the importance of commercial motor vehicle safety through roadside inspections. Over that 72-hour period, commercial motor vehicle inspectors in jurisdictions throughout North America will conduct inspections on commercial motor vehicles and drivers.
Inspections
Inspectors will ensure the vehicle's brake systems, cargo securement, coupling devices, driveline/driveshaft components, driver's seat, exhaust systems, frames, fuel systems, lighting devices, steering mechanisms, suspensions, tires, van and open-top trailer bodies, wheels, rims, hubs, and windshield wipers are compliant with regulations. Inspections of motorcoaches, passenger vans, and other passenger-carrying vehicles also include emergency exits, electrical cables, and systems in the engine and battery compartments and seating.
Also, during an inspection, inspectors will check the driver's operating credentials, hours-of-service documentation, seat belt usage, and for alcohol and/or drug impairment. A driver will be placed out of service if an inspector discovers driver-related out-of-service conditions.
Trucking Safety & Compliance
At Len Dubois Trucking, we expect another year of zero violations through our fleet during Roadcheck. Our goal is to always be in compliance with all regulations and to have our operations as safe as possible.
2022 Roadcheck Results
Over the three days of the Commercial Vehicle Safety Alliance's (CVSA) International Roadcheck commercial motor vehicle inspection and enforcement initiative, CVSA-certified inspectors conducted 59,026 inspections and placed 12,456 commercial motor vehicles and 3,714 commercial motor vehicle drivers out of service. See the CVSA Press release about CVSA Releases 2022 International Roadcheck Results.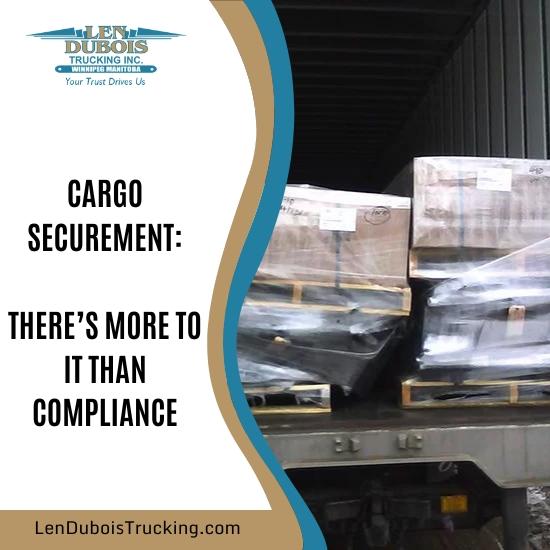 Click here for handy tips for proper load securement
Ask John About the $1500 Sign-On Bonus for Company Drivers, $3000 Sign-On Bonus for Owner Operators, & $5000 Sign-On Bonus for Super-Single or Team Owner-Operators