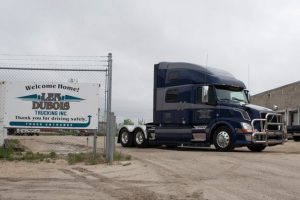 You can be sure that no matter what trucking company you're driving for they know your statistics. Dispatch knows how hard you run; they know how many miles you've gone for the month, even the year. Safety Services knows how safe you are and when, if ever, you received your last ticket. The Shop Manager knows how long you idle and what your fuel mileage is.
The real question is do they know you?
Companies who take the time to get to know their employees on a personal level have a better relationship with their drivers. From a company perspective they'll see a low turn over rate. From a driver perspective you'll see a much happier career.
When a company seems to see only your performance numbers they seem to see you only as a number. The way they deal with you can seem as though they think of you as part of the equipment – not as a person.
The reason for this maybe they've become too systematic. In an attempt to manage a fleet efficiently they loose some perspective and try to manage drivers to fit perfectly in their system. Unfortunately drivers lives and families don't always fit nicely. Real life gets in the way.
At Len Dubois Trucking we're focused on driver retention. We know our owner operators and company drivers. We have an open atmosphere and open door policies to resolve problems when they occur. We get you home, on average, every 6 -8 days.
Len Dubois Trucking is a family-run transportation and trucking company in Winnipeg, Manitoba. We are looking for quality Owner/Operators and company drivers. Join our team today.