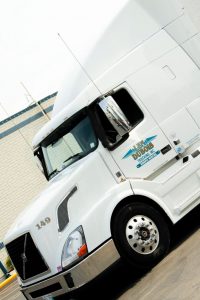 Submitted by Cindy Derricks
I'll be brief. Your husband should work for Len Dubois Trucking simply because they are the best trucking company in Winnipeg. Okay, so that was the short answer. If you don't believe me then here's the long winded explanation.
Nearly 13 years ago Jeremy passed his test and came home with his CDL. I won't tell you how many times it took, he'd get a little embarrassed, but I was happy that when he came home that mid December evening with his licence. The noose that we had hung up for him had no need to be used. True story.
Of course we were very excited. Trucking was going to be great. It was going to change our lives. Being fresh out of school Jeremy was worried about finding work as a single driver. If you've watched his videos you'll understand he's not really a people person. When he received his first call back he quickly accepted the job without too much enquiry. How bad could it be, right? It was awful. Jeremy would be gone three sometime four weeks at a time only to come home for a day or two. The truck he was driving was old and not well maintained and his dispatcher was not well versed in the art of dispatching, leaving Jeremy to take his time off on the road instead of at home with his family.
This went on for about five months. The last straw came when Jeremy was dispatched to Tennessee. He started his trip, made it through customs where they had a DOT spot inspection point set up. There were problems which his experienced team partner failed to find during the pre-trip. The company would not fix the breaks and advised Jeremy to continue the trip, the breaks may get fixed when he came back. I won't tell you exactly what happened next, but Jeremy did not take that run.
Jeremy set out to find another company, this time gathering more information about the companies he applied with. Len Dubois Trucking was the most promising. Jeremy met with Jason, who back in those days was also working dispatch with Jerry. During the interview Jeremy knew that this was the job he wanted. Jason had made a lot of promises; late model equipment (breaks included), equipment that was inspected before each run, an onsite shop to handle repairs and the ability to fix equipment while away from home, floats for the truck, a higher rate of pay, regular home time every 7 to 10 days, and more than one day in at a time. After the interview the only question that remained was whether or not they would hire a person with only six months experience. Jeremy left Len Dubois doubting that he would get the job, but knowing he would reapply once he gained more experience.
Jason did phone Jeremy back the next day. He wanted Jeremy to take a short trip to Arborg and back as a test run. They put him in unit 20 and laughed in the dispatch office. You see unit 20 had been cursed. A number of other drivers had taken a test trip in this truck and had failed to get on at Len Dubois. Jeremy is not superstitious, but when he got the truck stuck on the wet, muddy roads in Arborg he began to wonder. When the bumper broke as he was getting towed out, he even started to believe a little. He owned up to the damage and offered to pay for the repair. Jason responded by sending Jeremy to California, you know after the bumper was fixed.
Twelve and a half years later Jeremy is still working with Len Dubois Trucking. Over the years we have seen so many changes, but the important things have remained constant. I know that Jeremy is safe on the road because I know the equipment he is driving is well maintained, late model equipment. I know that when he has a problem on the road Dev will be searching for repair options and getting the truck fixed. I know that if the weather turns bad John will demand he shut down and stay safe instead of driving just to get to a delivery on time. I know that Jerry and his dispatch team are working hard; finding loads to get Jeremy miles and reloads to get him home every 6 to 8 days. I know that if Jeremy requests time off he will receive it and I know that if he needs to stay close to home, they get him shorter runs. I know that Jason, well I don't know exactly what Jason does, but I know that he runs a top notch company and that is good enough for me.
Len Dubois Trucking has job openings for company drivers and Owner Operators. If you think your husband should be working with Len Dubois Trucking then check out the these links Drivers Testimonials, Drivers and Owner Operator pages.