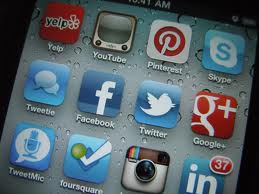 At Len Dubois Trucking we know the importance of staying connected with family. Many of our office managers, even the owner of the company, have grown up in a trucking family or have been behind the wheels themselves. As a company we work hard to find and provide our drivers with loads that will get them home to Winnipeg every 6 to 8 days.
This is only one part of the spectrum of keeping our drivers connected to their families. In fact it is the only thing that we, as a company, can do to help. The rest relies on you.
Time away from family is hard not only for the driver, but also for the family left at home. And staying connected just doesn't mean with the wife and kids, but also with parents, siblings, and friends.
Facebook and other social media sites offer an easy, quick way to stay connected with everyone at once, yet there are many drivers who still do not see the value in this form of communication. In less than a minute you can let numerous people know how you are doing, what you are doing, where you are, or simply just give a shout out to say hello to everyone at home. Almost as easily you can find out what everyone back home is doing, participate in discussions with family, look at and share images. If you don't currently use Facebook you may be missing out on a lot.
Phone Calls can be time consuming, especially if you're phoning a talker, but talking to your loved ones is the best form of communication. Phone your wife/husband everyday. If you have young kids make sure to talk with them as well. When phoning home you have to understand that your wife/husband isn't just sitting at home waiting for you call. They have a life too. A job to go to, kids to run after, evening events to attend. Try to set a time to make your call when it will work for both you and everyone at home.
Video chat on Google+, Facebook and Skype are easy to use. All you need is a decent internet connection, webcam and microphone. Most laptops computers come with a webcam and mic built in. If not you can pick up a webcam and USB headset for under $30.
Len Dubois Trucking is a Winnipeg trucking company and is proud of the drivers and staff we have recruited. To find out more about us check out our Drivers Testimonials, Drivers and Owner Operator pages. See us in action and join us on Facebook, Twitter and YouTube.
Safe driving