Being an Owner Operator adds many new responsibilities to your professional truck driving career. Be business smart with the Len Dubois Trucking Best Business Practices. Today we will be looking at setting up and maintaining a Preventative Maintenance Account.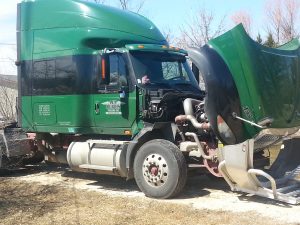 As an Owner Operator you are responsible for the repairs and maintenance on your truck, the one piece of equipment that you cannot work without. The best way to keep your truck in top working order is to perform regular maintenance and repairs before any serious break downs leave you stranded and unable to work.
The most common reason that Owner Operators don't fix minor problems before they get too big is that they haven't set up a Preventative Maintenance Account. Setting up a PM Account is easy; it just takes a little discipline. Not only will you have the funds available to fix any minor repairs, in time you'll have enough saved up to take care of any large repairs that will come as your truck get older.
"I always suggest that Owner Operators put away 10 cents per mile until they have built up their PM Account," say John Cole, Safety and Compliance Manager of Len Dubois Trucking.
PM Accounts for New Trucks
When trucks are new, even when they are still under warranty, Cole suggests building up a PM Account of $7,500 to $10,000. This gives owner operators a good safety net. These funds are then available to pay for regular maintenance checks and services, which we'll talk about in a later article; and pay for repairs that aren't covered under the vehicles warranty, such as tires and regular oil services. Also, warranty doesn't protect you from the costs of down time when a repair needs to be done. You can use your PM Account to absorb those costs, without putting yourself at financial risk.
As the Truck gets Older you may Want to Set Aside More Money
The warranty coverage you received when you purchased your truck is generally done by the time your truck reaches the four year mark. Not only does this means that you are now responsible for all of the repairs, you may be faced with additional or more frequent repairs as is common with older units. At this point in time it is probably a good idea to build up your PM Account so that you can afford major repairs, if you are faced with a complete motor rebuild you'll be looking at a cost in the neighbourhood of $20,000.
Build, Use, Replenish
Your PM Account is there for you to use for all repair, maintenance and service work you need to perform on your equipment. Building it up quickly by setting aside 10 cents per mile allows you to have funds available for the repairs you will need to make on your truck. Once you reach the desired amount for your PM Account you can stop adding to it. Just remember to replenish the funds that you use for repairs so that you will always have a safety net.
If you set up a PM Account you will be prepared with the appropriate funds to perform routine preventative maintenance and pay for those unplanned costs that always seem to pop up.