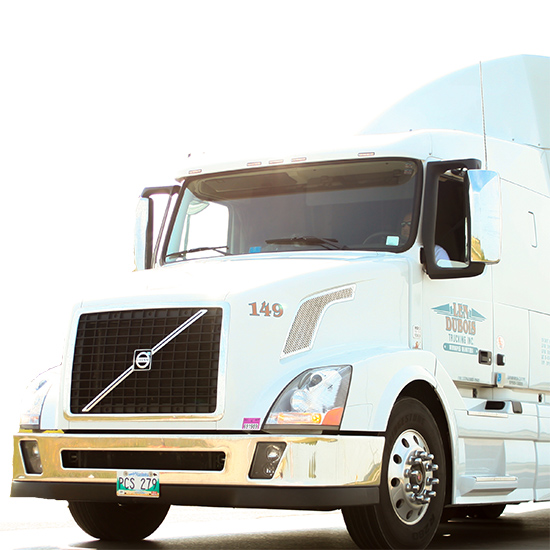 Len Dubois Trucking is always looking for professional drivers to join our growing Winnipeg team. We pride ourselves on the close working relationships we have with our driving team and our commitment to providing a healthy work/home balance. After all most of our management team have been over the road, long haul drivers, or have grown up in trucking families. If there is one thing we understand its life as a truck driver. Len Dubois Trucking drivers earn top dollar, plus receive regular incentives for the work they do.
Our Company Drivers receive:
Up to $0.45 per mile starting base mileage rate, the more experienced the more we pay!
Paid mileage incentive for above 10,000 miles up to $0.03 per mile.
$0.01 addition paid for all U.S. miles run.
$25.00 per stop on regular freight picks and drops – we pay all stops, first and last included.
$10.00 per Border crossings paid.
$200.00 per statutory holidays paid over & above your wage.
$75.00 per month paid for your cell phone expense.
Truck idling incentives.
Earn even more with the Recruiting Incentive Program.
Mileage & drop premium on specialized runs.
Miles paid on PC Miler practical miles, not shortest miles.
Paid on the 15th and last day of the month.
Health, Dental, and Disability insurance, excellent coverage subsidized by the company.
Assigned trucks. No slip seating.
Newer Volvo, and Freightliners
Anti idle device on all new and arriving units for increased cab comfort.
Satellite communication with dispatch.
Toll cards & transponders for tolls and ferries.
$200.00 U.S. funds cash float for emergencies and truck expenses.
Who We're Looking For
If you are a professional truck driver, who is committed to Safety and Compliance, quality customer service and strong work ethics you may be just the person we are looking for. Successful candidates will have:
A valid Class One Driver's License,
Will be able to travel to the U.S.
Will be required to pass a Len Dubois Trucking road test; and
Candidates should also be able to provide a clean driver's abstract and an up-to-date criminal record check.