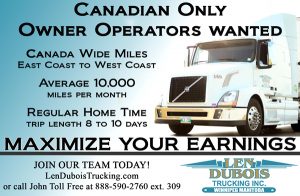 Partner with experienced professionals who can help you build your business. Len Dubois Trucking has an opportunity for 6 Canadian Only Owner Operators. This position is for a Canadian runs that go from coast to coast. Typical runs last 8 to 10 days providing owner operators with an average of 10,000 miles per month.
At Len Dubois Trucking we work hard to help you succeed and maximize your earning potential. Take advantage of our money saving fuel plan, low shop rates, deductible buy down, and modern well-maintained trailers equipped with fuel saving wind deflectors.
What We Offer
Our owner operators earn above industry average earnings with per mile contracts, company paid tolls and scales and more.
Our office staff and management have decades of experience in the trucking industry and many have been over the road. We know the importance of a quality relationship, good miles, a home life – and the necessity to balance it all.
Who We're Looking For
If you are a professional truck driver, who is committed to Safety and Compliance, quality customer service and strong work ethics you may be just the person we are looking for. Successful candidates will have:
A minimum of two years over-the-road experience.
Experience traveling in the mountains.
A 2008 or newer model truck that passes a Len Dubois Safety Inspection.
The ability to run from the East Coast to the West Coast of Canada.
Len Dubois Trucking has 30 years of success. Join the Len Dubois Trucking team today for a better trucking experience!
If you are interested in learning more about Len Dubois Trucking please feel free to email your resume, or contact John directly at 1-888-590-2760 ext. 309