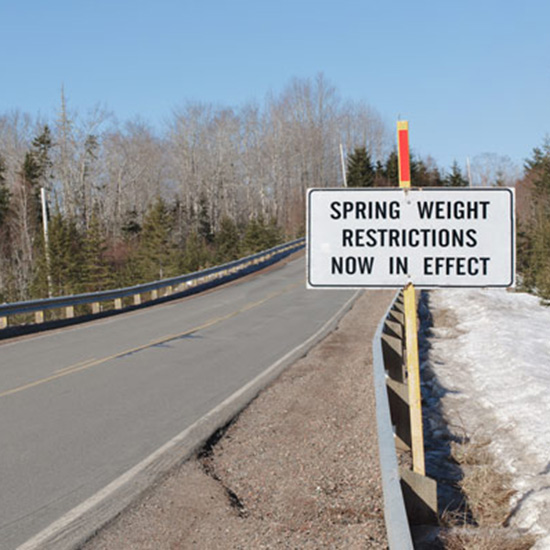 Starting Monday March 18th, 2019 Manitoba Spring Road Restrictions take effect. As always, we want our fleet to be in full compliance at all times. Fines are heavy and DOT will fine drivers who are overweight on restricted routes.
If any Len Dubois Trucking driver has any questions about routing please contact Ken or John for assistance.
Spring Road Restrictions
The purpose of the spring road restrictions is to protect the highways from break-up during the spring thaw. During the spring, when warmer temperatures cause the road surface to break up and generally deteriorate, the highways most affected are restricted to lower axle weights and speed restrictions. Signs indicating that a road is posted for lower weights are erected at the beginning of a posted road.
As spring starts in different states and provinces at different times, it is important for truck drivers to be aware of the different spring road restriction. Spring road restrictions can start as early as February and last into May. During these months it is important to check the restrictions for the areas you will be traveling.
Tips for Spring Road Restrictions
Even when empty, tractor trailers will be overweight if the road is restricted to 90%. Your steering axle will put you overweight. We really need to stay completely off any restricted road.
Phone your shipper/receiver and specifically ask if they are aware of a route to them which doesn't put you on a restricted road. Busy shippers/receivers usually are aware of the restrictions and can help you get in.
Account for extra time. Sometimes we are detoured well out of the way in order to take a safe route.
If you are a part of the Len Dubois fleet, you should call John if you have any questions about the restrictions. We expect our drivers to remain in compliance at all times.
Spring Road Restrictions Information
Manitoba Spring Road Restrictions http://www.gov.mb.ca/mit/srr/
Saskatchewan Spring Road Restrictions https://www.saskatchewan.ca/business/transportation-and-road-construction/information-for-truckers-and-commercial-trucking-companies/regulations-and-road-restrictions/increased-weights-and-road-restrictions
Alberta Spring Road Restrictions http://www.transportation.alberta.ca/522.htm
North Dakota Spring Road Restrictions https://www.dot.nd.gov/roadreport/loadlimit/loadlimitinfo.htm#truckroutingmaps
South Dakota Spring Road Restrictions http://www.sddot.com/travelers/loadlimits/
Minnesota Spring Road Restrictions http://www.dot.state.mn.us/materials/pvmtdesign/sll/index.html
Montana Spring Road Restrictions http://www.mdt.mt.gov/travinfo/