Len Dubois Trucking is a family run trucking company located in Winnipeg, Manitoba that is dedicated to the health and well being of our fleet. Follow us on Facebook & Twitter for updates, info, trucking pictures, and more!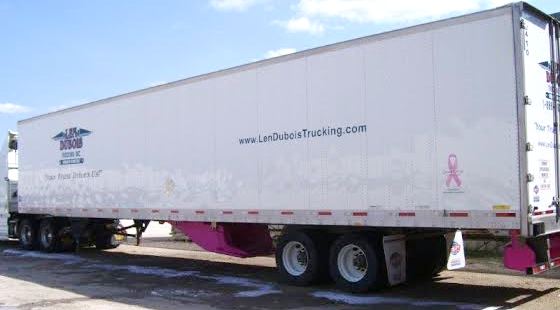 Len Dubois Trucking is proudly sporting it's new pink UnderTray from Smart Truck Canada in support of Cancer Care Manitoba. Smart Truck Canada is donating $350.00 from each sale of a UT6 UnderTray system to help the victims, survivors and the ongoing research of breast cancer.
1 in 9 Canadian women is expected to develop breast cancer during her lifetime. 1 in 29 Canadian women will die from breast cancer. These statistics remain unchanged over the past year. Breast cancer continues to be the most commonly diagnosed cancer in Canadian women over the age of 20 and is the second leading cause of cancer deaths.
The Canadian Breast Cancer Foundation encourages women and men to be breast aware. Breasts change throughout life; being breast aware means being familiar with how your breasts normally look and feel, knowing what changes to look for, and discussing any unusual breast changes with a health care provider. For more information on the steps to breast awareness visit the Canadian Breast Cancer Foundation.