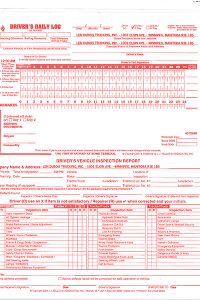 Most log book violations are caused by not paying attention to details. No matter how busy your day is you're expected to keep your log book in good order. Every violation or warning counts against your driving record and the company's safety rating. More violations, even seemingly harmless ones, against a driver and company result in increased inspections for the entire fleet, can lead to fines, poor driver's abstracts and even loss of work.
Len Dubois Trucking drivers are expected to have zero violations every step along the way. Keeping and maintaining our safety record is a team effort. Each driver must be responsible for following and adhering to all safety and compliance rules and regulations.
Keeping your log book up to date with all the required information is part of your daily job. Please ensure that you:
Keep your log book current – Make sure to update your log book with every change of duty. It's the law.
Keep your log book accurate – Inspectors can see when you crossed the border and company fuel cards transactions are time stamped. An audit will catch discrepancies. Fines for falsifying your log book can be steep and you can be put Out of Service. Being put OOS is a significant hit to your company's safety rating.
Do your recaps – Do the math and complete your 7 or 8 day recaps. One of the first things seen during an inspection is your recap. Taking time to fill out your recap is an indication to an inspector that your log book is in order.
Keep your log book neat & legible – Why keep it if you can't read it. It makes it easier on everyone if your log book is neat and tidy.
Fill out all the fields on you log & inspection report – Don't omit necessary information. A good rule of thumb is to fill out all the info on your log. Missing something such as a licence plate, signature, date etc. is a General Forms and Manner Violation.
DOT inspectors can go back as much as 14 days. For each violation found you can receive a warning or fine, which can add up quickly. Remember that you're expected to be in compliance at all times. If your up against your hours and cannot legally make an appointment on time – contact dispatch.
If our drivers have any questions about the HOS or need clarification on about their logs John is available to assist them.