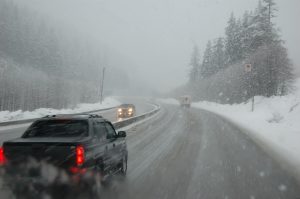 Holiday travel presents special challenges for truck drivers. We need to get to our destinations and the highways and byways see increased traffic. This traffic consists of people who maybe in a hurry, not used to traveling long distances, and more prone to road rage. And some may have a little too much to drink while others will have far too much to drink. Here's a few tips to keep you and your fellow travelers safe.
Shut down for the night before dark. Evening is where you'll see more drunk drivers. A good way to not be hit by a drunk driver, is to not be on the road when there is significantly more of them out.
If you need to drive at night, and you're on a freeway, make sure you can see tail lights in the distance in the left lane when you pass a vehicle. Really drunk drivers sometime head the wrong way on the freeway and they still try to maintain the right lane – their right lane. Their right lane is your left. If they don't have their lights on, and don't have running lights, you can't see them at night in the distance. If you can see tail lights up ahead there isn't anything, such as a car heading your direction, in that lane. Even in a the day of running lights there are older cars and cars with major electrical problems out there without running lights.
Plan more time to get where you're going.
Be patient and calm. Traffic back-ups will be exaggerated due to the increased traffic on the road. Road rage will not work to your advantage.
Expect the normal bad driving habits on the highway displayed by SOME four-wheelers to increase. Not to be rude but some of these people don't do this much driving regularly, maybe driving in unfamiliar territory (people take risks when they get turned around in order to get back on track, such as, u-turns where u-turns aren't allowed or right turns from left lanes), and nerves might be frayed if they're not having a good day. Plus there is more of them.
Stop at a restaurant for a turkey dinner!
 Len Dubois Trucking is proud of the drivers and staff we have recruited. To find out more about us check out our Drivers Testimonials, Drivers and Owner Operator pages. See us in action and join us on Facebook, Twitter and YouTube.