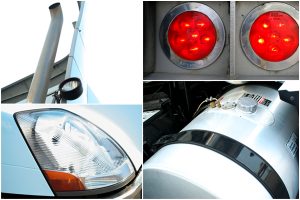 When you are out on the road it is your responsibility to ensure the safe operating conditions of the equipment you are driving. While many initiatives are in place by the Len Dubois Trucking maintenance department to ensure you leave the yard with equipment that is in top working order, issues can arise during your time away from home. Proper, daily pre and post trip inspections help keep the equipment in good working order and more importantly, keep our drivers and other motorists safe on the road.
Checking the lighting, fuel and exhaust systems on your truck and trailer is a daily part of your job.
Lighting
Remember that having even one marking lamp out is a violation. When conducting your daily vehicle inspections ensure that you check all of the lighting checking for:
Proper color, operation, mounting and visibility.
Remember you must check all marking lamps, brake lights, turn signals, low bean headlights, tail lights, license plate lights and high beams.
Fuel & Exhaust Systems
While you may not see a lot of problems with your fuel and exhaust system it is still important to make sure that you are checking them. A fuel leak can lead to poor engine performance and have safety implications. An exhaust leak can become a major health concern, especially if you have an exhaust leak into the cab.
When conducting your daily vehicle inspections ensure that you check your fuel and exhaust system for:
Check fuel tanks for loose mounting, leaks or other conditions; loose or missing caps; and signs of leaking fuel below the tanks.
For exhaust systems, check for unsecured mounting; leaks beneath the cab; exhaust system components in contact with electrical wiring or brake lines and hoses; and excessive carbon deposits around seams and clamps.
At Len Dubois Trucking we, as always, expect zero violations. The safety of our drivers and the equipment is of the utmost importance not only during the CVSA Roadcheck, but every day. Our maintenance department ensures that your equipment starts every trip in top working order, but it is the driver's job to ensure that the equipment remains this way while over the road. Completing your pre and post trip inspections daily will alert you to any problems that arise with the equipment. Any and all problems should be reported to the maintenance department right away so that appropriate repairs can be made either by your self or a licensed mechanic.