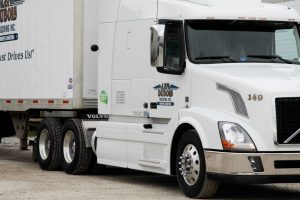 We're always up on what's happening in trucking. Here's what we found interesting this week around the industry. Follow us on Facebook or Twitter to stay on top of news from around trucking.
Love's Will Create Thousands Of New Truck Parking Spaces In 2017 – Truck parking is a growing problem nationwide in the US and Canada. Well, south of the border Loves is opening 50 locations with 3400 new parking spaces. 2016 was also a big year for the truck stop chain where they opened 47 locations with 3200 parking spaces.
Volvo Recalls Over 6,000 Trucks Due to Potential Brake Issue – We're big on Volvo here at Len Dubois Trucking. But even the best has a hiccup. The recall affects trucks with electronic air dryers. As per Devon, our Shop Manager, our fleet is unaffected by the recall.
OOIDA ELD Mandate Case Rehearing – "The U.S. 7th Circuit Court of Appeals (three-judge panel) has denied OOIDA's request to rehear their case against the U.S. DOT and the ELD mandate. OOIDA asked for an en banc rehearing which is a rehearing by all 12 7th Circuit Court of Appeals judges." The ELD mandate will be implemented and the trucking industry will make the transition.
Truckers Face Dearth of Rest Stops Along Florida's I-4 Corridor – "With the number of big-rig trucks on I-4 and other highways expected to increase by more than 30% over the next 25 years, Central Florida leaders are taking notice." The headline is spot on and truck parking in Florida is particularly bad and is getting worse. The federal government has HOS regulations but doesn't seem willing to build infrastructure to make it possible. It's a huge safety issue for not only truck drivers but everyone on the road.