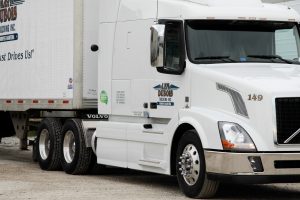 The spring road restrictions in Manitoba and nearby jurisdictions are now in effect and it is important for all truck drivers to be prepared for detours, especially when making rural pick ups and deliveries.
Drivers do not want to get caught on a restricted road. The fines are steep, ranging in the hundreds to thousands of dollars. And make no mistake – DOT is monitoring these roads and they know where they'll find the most violators. For information on where you can find more details about spring road restrictions in the area you are traveling in check out our article, Important Links for Spring Road Restrictions. This article includes links to local DOT websites where spring road restrictions will be in effect.
Here are a few tips to help you make it through the spring road restrictions:
Even when empty, tractor trailers will be over weight if the road is restricted to 90%. Your steering axle will put you over weight. We really need to stay completely off any restricted road.
Phone your shipper/receiver and specifically ask if they are aware of a route to them which doesn't put you on a restricted road. Busy shippers/receivers usually are aware of the restrictions and can help you get in.
Account for extra time. Sometimes we are detoured well out of the way in order to take a safe route.
If you are a part of the Len Dubois fleet, you should call John if you have any questions about the restrictions. Our goal for the spring and upcoming DOT blitz's, is ZERO violations. This is always the goal but we are really working hard to get drivers more conscious of the resources and support for our drivers to stay compliant.
Don't forget to check out our article with important online resources about the spring road restrictions. The links contain maps and details about the weight restrictions each in province and state.