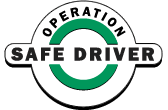 Operation Safe Driver Week begins October 16th through the 22nd, 2016. This is the week law enforcement and the trucking industry, throughout North America, come together in heightened enforcement and education aimed to curb unsafe driving practices by commercial drivers and passenger vehicle drivers.
Examples of unsafe driver behaviors that enforcement will be tracking throughout Operation Safe Driver Week are speeding, failure to use a seatbelt while operating a CMV or in a passenger vehicle, distracted driving, failure to obey traffic control devices, traveling too closely, and improper lane change.
During last year's Operation Safe Driver Week, 21 012 trucks were pulled over and 19 480 inspections were performed.
The top five citations for commercial drivers last year:
Size and weight violations
Speeding
Failure to wear a seatbelt
Failure to obey a traffic control device
Using a handheld phone while driving
As usual, Len Dubois Trucking expects zero violations from our professional fleet. Safe practices and running within compliance is the only to minimize risk to motorists and keep our safety profile clean. Please keep in mind that even warning citations count against our safety profile. More importantly, any citation indicates an unsafe condition and increased risk.
We are proud of the dedication to safety and compliance from our entire team. Safety is truly a team effort!